Staff
Jenae Ridge, Executive Director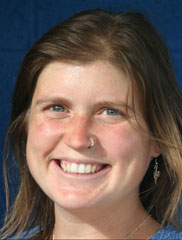 Jenae brings her passion for healthy food and experience working inthe non-profit world to our growing organization.
Ever since Jenae realized her passion of community growth through food, she has thrown her heart and soul into the cause – both personally and professionally. Her journey began with a pursuit of a degree in Social Work at Michigan State University where she studied diversity and saw first-hand through field work the impact of food systems on cultures locally and in India. Combining social impacts with food systems, Jenae set her path, beginning with volunteering on farms in Hawaii and Utah and leading eventually to the Green Urban Lunch Box (GULB) in Salt Lake City. As an AmeriCorps VISTA working in development for GULB, Jenae helped the young non-profit put in systems for growth and was quickly promoted to FruitShare Coordinator where she oversaw a program that rescues locally grown food to ensure its best use, rather than going into landfills. Read more about Jenae.
---
Zoe Flavin, Program Manager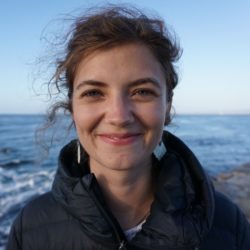 Zoe comes to EATS with experience leading cooking and gardening education programs. At a community garden in Ontario, CA, Zoe led a bilingual Spanish-English education program. She then further pursued her passion for food and experiential education with FoodCorps, a nationwide non-profit that aims to get healthy food in schools by offering hands-on cooking and gardening lessons to students. As a FoodCorps service-member, Zoe ran cooking and school garden programs at a middle school and high school in Lowell, MA. She first became interested in the links between experiential education and health as a researcher on the impacts of experiential education on kids' habits and lifelong health outcomes. Zoe has conducted research projects on the subject in India, Cuba, Chile, and with the Harvard Kennedy School's Government Performance Lab. Zoe's favorite thing is to create opportunities for young people to experience the delight of fresh food enjoyed amongst community and is so excited to contribute to the work of EATS in Park City! Zoe's other favorite things are having her hands in the soil and writing fiction.
---