School Gardens: Outdoor and Indoor
EATS understands the importance of raising a healthier generation through hands-on, experiential food education. School Gardens provide students with first-hand knowledge of growing food that can also incorporate so many other aspects of curriculum: science, math, and social skills.
Garden based education
Garden based nutrition education also improves fruit and vegetable consumption students, as students are more likely to try foods that they have grown and prepared. They are also more likely to teach their families about eating fruits and vegetables, and healthy eating overall. School gardens can create opportunities for project-based and place-based learning.
There is a growing body of research that highlights benefits, including:
Higher scores on standardized reading, writing, math, science, and social studies tests
Improved behavior in class
Increases in self-esteem
Improved conflict resolution, problem solving, and higher-level thinking
Research also shows that teachers become more excited and motivated, more engaged with students, and more able to collaborate effectively with other educators.
Gardens at our schools
Through our involvement in school gardens at Park City schools, we have seen first-hand results in students 1) yearning to eat the healthy foods they grow; 2) becoming more aware of environmental sustainability and where food comes from; and 3) having responsibilities not typically offered in the classroom.
If you would like to help implement or maintain a school garden at Park City schools, please contact us at eatspc@gmail.com or click here.
Indoor Gardens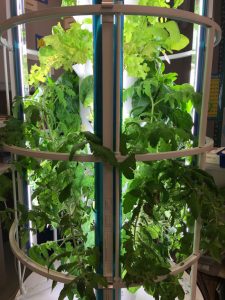 With our short growing season in the mountains, indoor gardens are a good option for year-round garden curriculum. They are used in classrooms where students can plant, monitor and harvest throughout the school year.
Outdoor Gardens
Information coming soon on our outdoor gardens.
References
McAleese, J., and Rankin, L. 2007. Journal of the American Dietetic Association.
http://gethealthysmc.org/SchoolGardensResearch
Center for Place-Based Learning and Community Engagement:<www.promiseofplace.org>, and the Buck Institute for Education: <www.bie.org>.