DIG IN! August 26th, 2018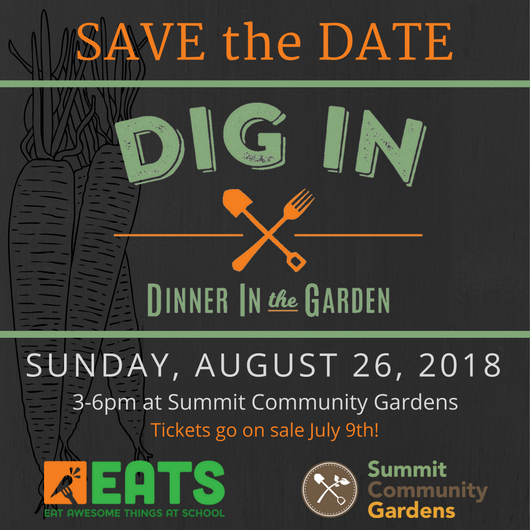 Join us for the third annual Dinner-in-the-Garden at Summit Community Gardens on Sunday, August 26th from 3pm – 6pm!
Meet EATS Park City and Summit Community Gardens on common ground as we bring the community together to share delicious, nutritious food.
The details: In addition to tasty, local, fresh food and $5 libations, you will enjoy family activities: meet the friendly goats, Fiona & Shrek, have your face painted, or dance to live music with local band Swagger. Bring your best smiles too! Photographer Joy Conneally will be available to take family photos that can be purchased online for a fee, 50% donated back to EATS Park City and Summit Community Gardens.
Interested in sponsorship? Please consider becoming a Family Sponsor to help fund this affordable community event. For a donation of $275, your family will receive DIG IN tickets for two adults and two children, a professional family photo, two branded stainless steel cups, and your name highlighted in our sponsorship materials. Any donation made between July 1st and September 15th will be matched by the Johnson Ohana Foundation up to $2,500.
Help reduce our carbon footprint: Bring your own reusable water bottle (water will be supplied) and/or purchase a reusable stainless steel cup that can be used for DIG IN and for years to come!
Looking to win some swag? Or can't make it? Consider supporting EATS & SCG by purchasing Opportunity Drawing tickets for a chance to win local items such as Jack Jackson concert tickets, Deer Valley picnic bags, Mindful Cuisine kids party, Christian Center Boutique gift cards and more!