EATS through Cooking: Learn by Doing. Appreciate by Tasting. Part Two.
A post by Hadley Dynak, who captured our second cooking class at McPolin elementary school on Friday, May 23rd, 2014. To view on Hadley's blog, click here.
I was running late to document the second of two pilot cooking classes organized by EATS (Eat Awesome Things at School) in partnership with the Park City School District and the McPolin Elementary After School Program led by Holy Cross Ministries. Despite, or maybe because of, the nasty weather outside from the early May snowstorm, the energy in the multipurpose room was hopping when I arrived.
"Controlled chaos" laughed Courtney Caplan in greeting. "The kids haven't been outside all day." She pointed me to today's menu which included make-your-own quesadillas, homemade guacamole, and fresh mango salsa. I quickly jumped in to shoot photos of the first of three groups who would come through the class in the next few hours. The K-1st graders were already deep into the work of chopping, mashing, squeezing, and pinching ingredients under the guided supervision of the volunteer instructors.
Courtney is one of the inspired EATS volunteers and the visionary behind the McPolin class. Her goal is to not only give elementary kids hands-on experience making low-cost, healthy meals, but to get them talking to one another and their families about the choices we make when we prepare homemade food as an alternative to purchasing popular items that are full of fillers, sodium, fat and extra calories.
At just over a year old EATS is building local momentum — promoting healthy living and eating through programming in each of the Park City schools. Started by Susan Odell and Ann Bloomquist in 2013, the group works with the District to advocate for nutritious school lunch options and to create opportunities for kids to directly connect with their food through growing, preparing, and sharing it with one another.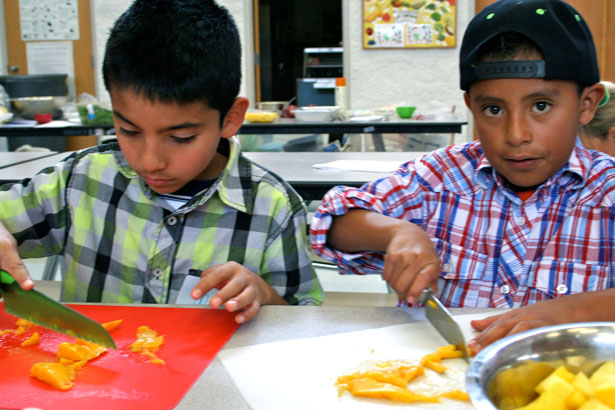 Community-minded businesses are also joining the effort with Whole Foods Market and Fairweather Foods both donating food to the McPolin pilot. Travis Harkness, Marketing Specialist with Redstone's Whole Foods Market shared his motivation. "This program has the potential to help children and their families make healthier food decisions," and several of the other EATS cooking class volunteers echoed his sentiment.
"I'm here to talk to kids about what good food is and what that means," "I was excited to see that somebody was doing something about school nutrition," "It's great to get a younger age group involved," were some of the reflections I heard.
Miguel, one of the peer leaders with the local Latinos in Action chapter who came out to help reiterated, "I am here to teach these kids to eat well. If they can learn now, it will be with them forever."
But the biggest fans of the program seem to be the kids themselves. Each group of students jumped in, remembering the routine and instructors from the previous class. "We're good cooks!" "Can I chop more?" were among the chorus of comments.
Some of the young cooks were all smiles and giggles while they picked cilantro and mashed avocados. Others were more serious as they carefully diced tomatoes or wiped away tears from the onion fumes. All were excited as they sat down, once again, to eat the meal that they had prepared together.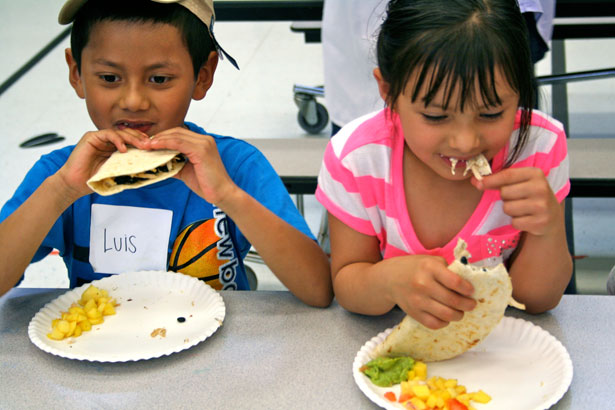 I'm making this with Mexican cheese for my mom for Mother's Day." – Luis, 9 years old, 3rd grade, McPolin Elementary