Nutrition Key to Athletes' Success
USSA High Performance Chef Allen Tran explains the importance of good nutrition to young athletes from the Park City Ski Team
What's the difference between fueling your body and just eating? What's the 2& 2 rule of thumb? Why does your body need logs of carbs as well as kindling? These questions were answered for U14 Park City Ski team members on April 15th when they assembled at the Center of Excellence (COE) to hear Chef Allen Tran talk about sports nutrition for elite athletes.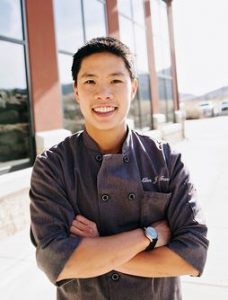 As well as being USSA's High Performance Chef, Allen is a dietitian and trained Wellness Coach who has a passion for real food and a knack for making it simple for busy, young athletes. Chef Allen coaches the likes of Ted Ligety and Mikaela Shiffrin to think about fueling their bodies with proper nutrition, rather than eating food to get full. He explained to the teens how protein, carbohydrates and fats are essential to building muscle, and creating and storing energy. However, some foods provide these elements at a higher quality level for bodies than others: ham is a better choice than bacon for a breakfast sandwich; fruit and whole grains offer carbs that stay in the body longer than a candy bar; olive oil and nuts provide good fats bodies need. The key to staying healthy when you're around lots of people who may be sick: Allen says eat vegetables to build immunity.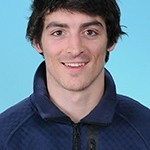 Simple rules of thumb, but are the athletes following these guidelines? Yes, according to Ryan Stassel, the American snowboarder who won a World Championship medal in slopestyle this past January in Kreischberg, Austria. Ryan happened to be sitting in the lunchroom at COE during the tour and talked to the kids about his eating habits: "It's not always easy to find good food when you're traveling in other countries. My go to is pasta and salad. But I always think about having all three of those things Allen mentioned in my meals – protein, carbs and fat."
Another challenge that emerging world class athletes face is eating on a budget. That's why Allen teaches them about 2&2 meals: things they can make in two minutes that cost $2. A favorite is natural peanut butter on whole wheat bread with bananas on top. Simple, easy, cheap.
The kids asked great questions during the tour. "What's  the athletes' favorite food at USSA?"  Mexican, says Chef Allen. He makes a killer breakfast burrito (see recipe) that can be frozen and zapped in the microwave for a meal or snack anytime. "How about their favorite snack?" String cheese. When talking about sugary foods for quick energy, Chef Allen offered this analogy. "Think about building a fire. Do you want to have only kindling as fuel that will burn out quickly? No, you need logs as well so that the fire lasts a long time to get the job done. It's the same with the carbohydrates in your body. Sometimes you need quick energy, but for long workouts and race days, your body needs fuel that will last the whole day."
Along with nutrition talk, the U14s were guided through the COE facility to see the high tech training equipment used by the athletes, the state of the art medical testing and rehab facilities and the gym/aerial workout area. A highlight was jumping into the foam pit and soaring on a rare trampoline.
The tour was arranged by EATS Park City – a non-profit organization working to educate kids on healthy eating habits.