BBQ Jackfruit Pulled "Pork" Burgers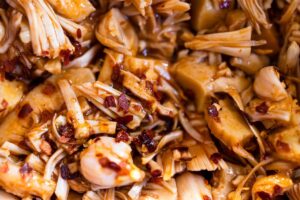 BBQ Jackfruit Pulled "Pork"
Calories: 535
Fat: 19 grams (Saturated Fat: 2 grams)
Carbohydrates: 76 grams
Fiber 10 grams
Protein: 12 grams
Allergens: Gluten, wheat
Ingredients
2, 20-oz cans young green jackfruit, in water or brine
1 tbsp olive oil
1 small sweet onion, diced
1 cup BBQ sauce
½ cup water
Siracha hot sauce, to taste
Salt, to taste
Hamburger buns – this recipe includes nutrition for Sara Lee Wheat Hamburger bun

Coleslaw

5 cups coleslaw mix with cabbage and carrots
½ cup vegan mayo
2 tbsp granulated sugar
2 tbsp apple cider vinegar
¼ tsp salt
1/8 tsp celery seed
Instructions
Drain and rinse the jackfruit from the can. Rinse very well if your jackfruit was packed in brine. Chop off the hard center core portions, if desired. (texture is better with tougher parts removed). Set aside.
Heat the olive oil in a large skillet over medium heat, then add the onion and cook for 3-4 minutes until translucent.
Add the jackfruit, BBQ sauce and ½ cup of water. Stir well to combine, then cover and simmer for 20 minutes on low-medium heat, stirring occasionally.
After 20 minutes, remove the lid and mash the jackfruit with a potato masher or 2 forks, to create a shredded texture so it resembled pulled pork. Add siracha hot sauce and salt to taste.
To finish, turn the heat up to high and cook for another 10 minutes, stirring frequently. This helps it dry up a bit and get blackened in some spots, which makes it so tasty!
Remove from heat and serve on buns with vegan coleslaw, enjoy!
*For oil free, omit the oil and cook the onion in a few tbsp of water.
*For gluten free, use gluten free vegan buns.
*A lower calorie or low sugar BBQ sauce is recommended (BBQ sauces contain a lot of sugar from corn syrup).
https://eatsparkcity.org/recipes/bbq-jackfruit-pulled-pork-burgers/