Chocolate Chip Coconut Pancakes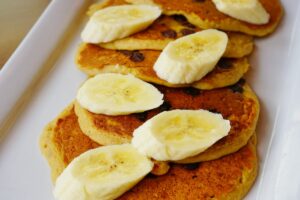 Chocolate Chip Coconut Pancakes
Calories: 330
Fat: 7.5 grams
Carbohydrates: 63 grams
Protein: 8.5 grams
Allergens: Gluten
Ingredients
1 tablespoon flaxseed meal
1¼ cups buckwheat flour
¼ cup old-fashioned rolled oats
2 tablespoons unsweetened coconut flakes
1 tablespoon baking powder
Pinch of sea salt
1 cup unsweetened, unflavored plant milk
½ cup unsweetened applesauce
¼ cup pure maple syrup
1 teaspoon pure vanilla extract
1/3 cup vegan mini chocolate chips
Sliced bananas, for serving
Instructions
Place the flaxseed meal in a small saucepan with ½ cup water. Cook over medium heat until the mixture gets a little sticky and appears stringy when it drips off a spoon, 3 to 4 minutes. Immediately strain the mixture into a glass measuring cup and set aside. Discard the seeds.
In a large bowl, whisk together the buckwheat flour, oats, coconut flakes, baking powder, and salt.
In a medium bowl, whisk together the milk, applesauce, maple syrup, vanilla, and 2 tablespoons of the reserved flax water.
Add the liquid mixture to the dry mix and stir together to blend; the batter will be thick. Stir in the chocolate chips.
Heat a nonstick griddle over medium-low heat. Pour ~1/2 cup batter for each pancake onto the griddle and spread gently. Cook for 6 to 8 minutes, until the pancakes look slightly dry on top, are lightly browned on the bottom, and release easily from the pan. Flip and cook for about 5 minutes on the other side.
Repeat for the remaining batter, wiping off the griddle between batches. Serve hot with sliced bananas.
https://eatsparkcity.org/recipes/chocolate-chip-coconut-pancakes/