Easy Vegan Pesto Pasta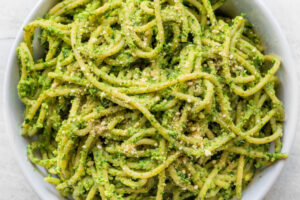 Calories 392
Fat: 18 grams
Carbohydrate: 47 grams
Fiber: 4 grams
Protein: 11 grams
Allergens: Wheat, gluten, tree nuts
Ingredients
1 cup fresh basil, packed
1 cup fresh arugula, packed
½ lemon juice
1/3 cup olive oil
½ cup water
2 cloves garlic, peeled
1 teaspoon pepper
2 teaspoons kosher salt
1 ¼ cups almond meal
1 lb. spaghetti
1/3 cup pasta water, if you're using this as a dip, omit the pasta water
Instructions
Combine basil, arugula, lemon juice, water, and olive oil to a food processor/blender and plus or mix for 5-10 seconds.
Add garlic, salt, pepper, and almond meal to the blender and blend until completely mixed.
Boil salted water and cook spaghetti according to packaging instructions.
When draining the pasta, reserve ? to 1 cup of the pasta water.
Once drained, return the pasta to the pot, and stir in the pesto, adding reserved pasta water until the sauce reaches desired consistency.
https://eatsparkcity.org/recipes/easy-vegan-pesto-pasta/