Hummus Recipe, Four Ways
Classic Lebanese Hummus
Makes 12 servings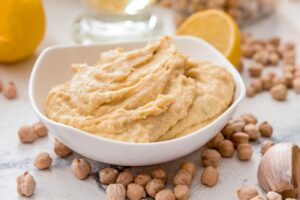 Ingredients:
2 cups cooked chickpeas, drained
1/4 cup tahini
1 lemon, squeezed
1/4 cup extra virgin olive oil
2 large cloves garlic, minced
1 teaspoon sea salt
Ground black pepper, to taste
Water (optional), add for creamier texture
Jalapeño Hummus
Makes 12 servings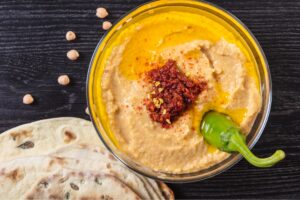 Ingredients:
2 cups cooked chickpeas, drained
2/3 cup canned jalapeño pepper slices, juice reserved
1/4 cup and 3 tablespoons tahini
6 cloves garlic, minced
1/4 cup lemon juice
1 teaspoon ground cumin
1 teaspoon curry powder
Crushed red pepper, to taste
If more liquid is needed for blending and you would like more jalapeño flavor, add juice from can
Chipotle Adobo Hummus
Makes 12 servings
Ingredients:
2 cups cooked chickpeas, drained
2 tablespoons olive oil
2 tablespoons tahini
2 tablespoons chipotle peppers, packed in adobo sauce
2 cloves garlic
1/2 to 1 teaspoon salt
1 tablespoon plus 1 teaspoon lemon juice
3 tablespoons water, plus additional as needed
Chipotle peppers, olive oil and paprika, to garnish
Roasted Red Pepper Hummus
Makes 12 servings
Ingredients:
2 cups cooked chickpeas, drained
1/3 cup roasted red peppers, drained if from a jar
1/4 cup lemon juice
3 tablespoons tahini
1 tablespoon olive oil
2 garlic cloves, peeled and roughly chopped
1 teaspoon salt
1 teaspoon curry powder
1/2 teaspoon ground coriander
1/2 teaspoon ground cumin
Water, if needed
Preparation for all hummus recipes:
In a blender or food processor, mix all ingredients together.
Add additional water and/or olive oil while blending for a more smooth texture.
Garnish as called for in recipe.
Serve warm or cold, with pita bread, chips or mixed vegetables!
Recipes adapted from or courtesy of Allrecipes.com, Hell Yeah It's Vegan!, and Taste of Home.
Health & Nutrition Benefits from Ingredients in Hummus Recipes
Chickpeas, also called Garbanzo Beans, are an excellent source of protein and fiber. They also have high levels of iron, vitamin B-6, and magnesium.
Tahini (ground sesame seeds) is a great source of calcium, unsaturated fat, and minerals that help with healthy cell growth and maintaining healthy muscles.
Olive oil contains healthy fatty acids and antioxidants. This food is good for your skin and hair and helps prevent disease.
Lemon juice helps keep you healthy because it is a great source of vitamin C! Citric acid gives lemons their distinct taste. Citric acid is a natural preservative that also helps with digestion and breaking down kidney stones.
Garlic is very good for your immune system. It also helps lower blood pressure and improves cholesterol. If you get sick with the common cold a lot, adding garlic to your diet can help you feel better faster!
Peppers! Chipotle, Jalapeño, and Bell Peppers contain vitamins C and A. Have you ever wondered why some peppers are hotter than others? It depends on the pepper's capsaicin level. In these recipes, jalapeños have the most capsaicin and bell peppers have the least. Capsaicin helps with healthy blood flow, anti-inflammation, and burning calories.