Pizza with Tempeh Sausage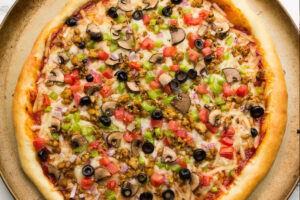 Pizza with Tempeh Sausage
Calories: 327
Fat: 13 grams
Carbohydrates: 41 grams
Fiber: 3 grams
Protein: 12 grams
Allergens: Seeds, gluten, wheat, soy
Ingredients
Pizza Dough

2-2 ¼ cups all-purpose flour
2 ¼ tsp. instant yeast (1 packet)
1 tbsp. sugar
¾ tsp. salt
¾ warm water (not too hot or it will kill the yeast)
1 tbsp. olive oil

Tempeh Sausage Crumbles

8oz. package tempeh
1 tbsp. olive oil
3 cloves garlic, minced
2 tsp. fennel seeds
1 tsp. dried basil
1 tsp. dried oregano
½ tsp. red chili pepper flakes
2 tbsp. low sodium soy sauce

Additional Toppings

Vegetables of choice – green pepper, red onion, broccoli, spinach, mushrooms, tomatoes, olives etc.
Shred-able vegan mozzarella, easy stretch vegan mozzarella, or store-bought vegan cheese
Instructions
For Pizza Dough

In a large bowl, or stand mixer, add 1 cup flour, yeast, sugar, and salt, and stir until well combined.
Now pour in the warm water, and olive oil, and stir well with large spoon.
Gradually add the rest of the flour, ½ cup at a time, until the dough starts to form a ball and pull away from the sides of the bowl. It should be a little sticky but not too wet. You should be able to handle it with your hands.
If you are using a stand mixer with a dough hook, knead the dough for 2-3 minutes. If you are not using a mixer, transfer to a lightly floured surface and knead with your hands for 4-5 minutes, until a cohesive ball is formed.
Grease a large bowl with oil, and place dough in it. Cover with a towel and let the dough rise for at least 30 minutes, until it doubles in size. (Tip - I preheat the oven to 300, then turn it off and set the bowl inside, with the door slightly open.)

Tempeh Sausage

In a medium pan with a lid, crumble the tempeh small and add ½ cup of water. Steam, and cover for about 5 minutes until nearly all the water has evaporated.
Now add the olive oil and remaining ingredients to the pan and cook, stirring frequently for 5-10 minutes. Remove from heat. Prepare all vegetables by slicing/chopping, get out your pizza sauce and vegan cheese of choice.

Roll the dough and make pizza!

Preheat the oven to 450F when the dough is nearly risen.
Once dough has risen, gently punch the dough to deflate it, transfer to a floured surface and roll out the dough to fit your pizza pan. I use a rolling pin; you could also use your hands. Fold over the edges to make a crust, if desired.
Transfer the dough to your pizza pan, add sauce, vegetables (of choice), and cheese. Bake pizza for 12-15 minutes, or until crust is golden brown and cheese is melted. Slice, and serve!
*Feel free to substitute half or all of the all-purpose flour with whole wheat or white whole wheat flour, if desired (lower in carbs, and higher in protein and fiber).
*Pair with a side salad or vegetable of choice for added nutrients and fiber for fullness!
https://eatsparkcity.org/recipes/pizza-tempeh-sausage/