Spicy Tomato Rice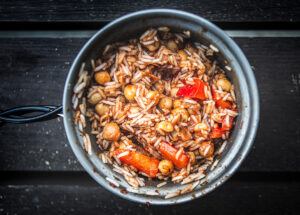 Ingredients
Ingredients for the Rice

1 14 oz can of tomato soup
¼ cup water
1 cup white or brown rice
14 oz black beans (1 can or hydrated dried black beans)
2 tbsp oil
2 cloves of garlic, minced
1 jalapeno, minced (remove seeds for a less spicy dish)
2 tsp cumin
1 tsp chili powder
¼ cup fresh or dried cilantro

Optional Ingredients for Topping

½ avocado, sliced
1 fresh tomato, diced
Fresh cilantro leaves
Salsa
Instructions
If using dried beans, hydrate them either by soaking them overnight (12 to 24 hours) in cold water or simmering them in hot water (3 to 4 hours).
In a saucepan, combine the 1 cup of rice with the can of soup and ¼ cup water.
Bring to a boil over medium-high heat, cover, reduce the heat to low, and cook for 20 minutes. Remove from the heat and let the pan stand, covered, for another 5 minutes.
Heat a 10- to 12-inch skillet over medium-high heat. Pour in the oil and stir-fry the garlic and jalapeño until the garlic browns and the jalapeño smells pungent, about 1 minute.
Add the black beans, cumin, and chili powder; stir two to three times to incorporate the mixture and cook the spices, about 30 seconds.
Add the cooked rice and cook, stirring occasionally, until the rice is warm, 1 to 2 minutes.
Serve immediately on tortillas or with tortilla chips. Top with any additional ingredients desired.
https://eatsparkcity.org/recipes/spicy-tomato-rice/