Stuffed Mushrooms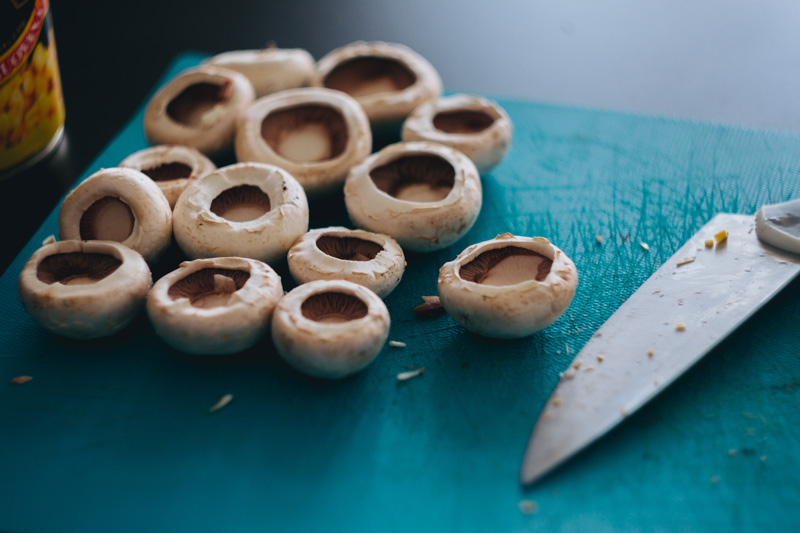 Ingredients
For the Mushrooms
20 Button Mushrooms
1 cup white cheddar cheese
2 tbsp unsalted butter, at room temperature
Additional butter to rub onto tops/caps of mushrooms
5 Garlic Cloves
1/8 cup Fresh Flat Leaf Parsley
Salt & Black Pepper to Taste



---

For the Horseradish Dipping Sauce
Salt & Black Pepper to Taste
1/2 cup Greek yogurt
1 tbsp horseradish or more to taste (paste/already blended)
1/2 teaspoon black pepper
1/2 teaspoon salt
1/2 - 1 teaspoon teaspoon hot sauce of choice (or pepper flakes)
Instructions
Clean mushrooms beforehand
In a small bowl combine minced garlic, finely chopped parsley, pepper, cheese and butter.
Remove the stems. Do this carefully so you don't break the mushrooms.
Season each mushroom with salt and black pepper.
Fill with the prepared garlic stuffing with 1 tbsp (more or less depending on mushroom size)
Place them onto a baking tray lined with a sheet of baking parchment.
Bake in a preheated oven at 375°F for 15 minutes.
While mushrooms are baking, make horseradish dipping sauce. Mix together all dipping sauce ingredients.
https://eatsparkcity.org/recipes/stuffed-mushrooms/