Veggie Bowls with Lemon Tahini Dressing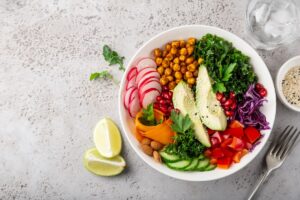 Veggie Bowls with Lemon Tahini Dressing
Ingredients
Roasted Veggies

3 small sweet potatoes (optional to peel), and chopped (~4 cups)
4 cups brussels sprouts, trimmed and halved
1 medium cauliflower, chopped into small florets (4 heaping cups)
1 medium red onion, peeled and chopped
2 large red bell peppers, chopped (may substitute for color of liking)
3 tbsp. extra-virgin olive oil, divided
Salt and pepper, to taste

Fresh Veggies

1 medium English cucumber, chopped
1 medium bunch of green onions, chopped
2 cups grape tomatoes

Quinoa

2 cups uncooked quinoa

Power Bowl Toppings

Chopped lettuce/greens (romaine, butter lettuce, kale, arugula etc.)
Ripe avocados (¼ – ½ avocado per bowl)
Cooked beans or lentils (½ cup per bowl) - optional
Hummus – optional

Lemon Tahini Dressing (Recommended)

1 large garlic clove
½ cup fresh lemon juice
¼ cup tahini
3-4 tbsp nutritional yeast (to taste)
3 tbsp. olive oil
½ tsp. salt
3 tbsp. water
Instructions
Preheat oven to 400F and line 2 large baking sheets with parchment paper.
Divide the chopped, "to be roasted" veggies on the baking sheets, drizzle 1 ½ tbsp. of olive oil over each sheet and toss veggies until they're fully coated. Sprinkle with salt and pepper.
Roast veggies for 3-40 minutes (until fork tender and golden).
While veggies are roasting, add the quinoa to a large pot along with 3 ½ cups of water, and stir. Bring to a simmer over medium-high heat, then immediately reduce the heat to low-medium, cover with a tight-fitting lid, and cook 12-14 minutes, until water is absorbed, and quinoa is "fluffy". Remove lid and fluff the cooked quinoa with a fork.
While quinoa cooks, chop the cucumber and green onions. Rinse the tomatoes.
Remove roasted veggies from oven. Once mostly cool, transfer all the veggies and quinoa into containers, seal with airtight lids, and place into fridge for up to 4 days.
To make the power bowl – Add a couple generous handfuls of chopped lettuce/greens (your choice) to the bottom of a large bowl. Drizzle with a bit of dressing and toss the greens until coated. Top with 1 cup cooked quinoa, and 1- 1 ½ cups of roasted and fresh veggies. Now add diced avocado, ½ cup cooked lentils or beans (optional), nuts and seeds of choice (optional). And hummus.
https://eatsparkcity.org/recipes/veggie-bowls-lemon-tahini-dressing/