Alex's Healthier Take on Funeral Potatoes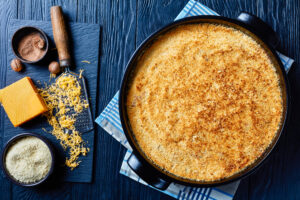 Alex's Healthier Take on Funeral Potatoes
Ingredients
2 lb potatoes - red, russet, or gold
2 cups Greek yogurt - plain, whole milk
2/3 cup Mexican yellow sour cream
4 oz shredded cheese, cheddar or other (fills approx. 1 cup)
1.5 Tbsp cornstarch
1.5 tsp mustard powder
1 Tbsp Better than Bouillon - chicken, low sodium
6 Tbsp olive oil, extra virgin
1 medium onion, yellow
4 cloves garlic
1.5 cups Panko bread crumbs
Instructions
Bring 2 quarts of water to a boil in a large saucepan or pot.
Rinse potatoes, shred with a cheese grater or mandolin at 1/8" size.
Boil potatoes for 6-8 minutes, or until tender.
While potatoes are boiling, chop onion into small dice and cut garlic cloves into fine mince.
Mix yogurt, sour cream, cheese, cornstarch, mustard powder, and bouillon in a bowl.
Drain potatoes, reserving 1/2 cup of starchy water - add this liquid to the yogurt mixture.
Heat pan/pot at medium heat, add olive oil and onion and cook stirring often for about 5 minutes until soft and lightly browned.
Add garlic and cook while stirring for about 30 seconds or until fragrant.
Add potatoes to pot, heat while stirring for 5 minutes to reheat potatoes.
Turn heat down to the lowest setting and add yogurt mixture. Gently mix with potatoes, and when thoroughly combined.
Let the contents gently warm up with no additional stirring, as this may break the yogurt and cause it to curdle.
When the mix is hot, about 5-10 minutes depending on your heat level, pour into a serving dish.
Top with Panko bread crumbs and salt. If desired, toast Panko by putting the dish under the broiler for a minute or two. Alternatively, toast the crumbs with some oil in a pan and top them separately.
https://eatsparkcity.org/recipes/alexs-healthier-funeral-potatoes/