Breakfast Tacos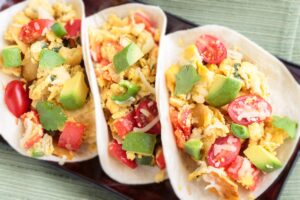 Makes 6 tacos
Ingredients:
6 tortillas, corn or flour
Toppings:
2 tomatoes, chopped
1 onion, chopped
2 radishes, diced
1 avocado
⅓ cup cilantro
1 cup shredded cheese, cheddar or cotija
Taco filling:
1 can pinto beans
1 teaspoon dried oregano (or 1 tablespoon freshly chopped)
1 teaspoon ground cumin
6 eggs
1 teaspoon water (or milk)
1 T butter
Salt & Pepper
Preparation:
Chop the tomatoes, cilantro, and onion. Slice the avocado. Dice the radish. Set aside each topping ingredient in a separate bowl.
Drain the pinto beans, and rinse. In a medium saucepan, on low heat, add the pinto beans, oregano, cumin and ½ teaspoon of salt and pepper. Cook for 5 minutes. Season to taste.
Melt the butter in a medium (10-inch) nonstick skillet over low heat. Break the eggs into a bowl and whisk eggs and milk until whites and yolks are thoroughly blended. Pour into the pan, still on low heat. Cook until the eggs are set but still a bit wet, stirring often with a wooden spoon or spatula. Remove from heat and set aside.
Place the tortillas on a plate and cover with a damp tea towel, or use a microwaveable tortilla warmer. Heat the tortillas until steaming hot and pliable, about 30 seconds. (Alternately, if you have a gas stovetop, you can use a tongs to heat the tortillas over an open flame until a bit charred and hot, about 20 seconds on each side.)
Wrap the warmed tortillas in a cloth napkin or clean tea towel and place in a bread basket or place a tortilla warmer so they stay flexible and warm while you assemble the tacos.
To assemble the tacos, you can either assemble them yourself or bring the toppings to the table and let each person assemble theirs individually.
Place a warm tortilla on your plate. Onto the tortilla, ladle the scrambled eggs and pinto beans. Sprinkle each tortilla with cheese, cilantro, tomato, onion, and radish. Add sliced avocado. Serve immediately.
* This recipe is easily scaled to serve a larger crowd. If you are cooking for eight, use a large (12-inch) skillet instead of a medium one.
** When you are assembling the tacos, use a slotted spoon to serve up the pinto beans. This will prevent your tacos from taking on excess liquid and becoming soggy.
Recipe adapted from The Kitchen's "Breakfast Tacos"
Health & Nutrition Benefits from Ingredients in these Recipes
One egg contains 6 grams of high-quality protein and all nine essential amino acids.
Pinto beans are a very good source of cholesterol-lowering fiber, with a high fiber content which prevent blood sugar levels from rising too rapidly after a meal.
Avocados help to maintain a healthy heart, containing vitamin B6, vitamin E and folic acid; they also help to lower cholesterol levels, control blood pressure, and lower inflammation.
Radishes help to aid in digestion and eliminate toxins, and contain a high amount of vitamin C.
Cilantro helps to increase HDL cholesterol (the good kind) and reduces LDL cholesterol (the bad kind), adds fiber to the digestive tract, and is a good source of iron and magnesium.