Chicken Tortilla Soup
Recipe from CNS Staff.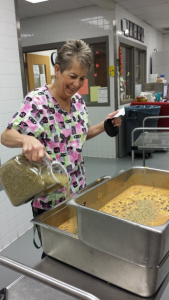 The CNS Staff submitted their signature recipe for Chicken Tortilla soup to the Adventure Bites program to promote this delicious, made-from-scratch menu item to students. Make this recipe at home!
Serves 10
Ingredients
2/3 pound chicken fajita, unseasoned
2 Tbsp butter
2/3 pound yellow onion
3 1/2 cups water
3 1/3 tsp chicken base
2 2/3 cups evaporated milk
2/3 cup salsa
1/8 can kidney beans
1 1/3 ounce chili powder
1 tsp garlic powder
10 ounce can of black beans
10 ounces of frozen corn
1 1/3 tsp cumin
2/3 tsp oregano
5 ounces cheddar cheese, shredded
1 1/3 Tbsp flour
1/8 tsp cayenne pepper
Directions
Melt butter in large pot.
Add garlic and onion and saute until softened, 5 minutes.
Add flour and stir well, cook for 1 minute.
Drain beans.
Add broth, milk, chicken, salsa, beans,corn, cumin and all other spices.
Simmer over low heat until soup thickens slightly.
Ladel soup into bowl and top with 1/2 ounce of cheddar cheese.
Serve with sour cream and tortilla strips on the side.