Easy Vegan Buckwheat Crepes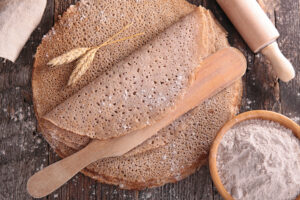 Easy Vegan Buckwheat Crepes
Calories: 75
Fat: 1 gram (saturated fat: 1 gram)
Carbohydrates: 16 grams
Fiber: 2 grams
Protein: 3 grams
Allergens: None
Ingredients
2 1/2 cups water
1 1/2 cup buckwheat flour
1/2 tsp salt
1/2 tsp baking soda optional but highly recommended
Oil for cooking
Instructions
Combine all the ingredients - except the oil - in a large mixing bowl and whisk gently but firmly until all the flour is incorporated and the batter is very smooth. If time permits, let the crepe batter sit at room temperature for about 30 minutes (or even up to a few days in the refrigerator) then give it another quick stir before using.
Heat a medium sized skillet over medium-high heat and once it's hot, brush it with a little bit of oil (I like to use coconut oil)
Pour about 1/2 cup of crepe batter into the hot skillet and then tilt, wiggle and rotate the pan to spread the batter around as thinly as possible. Let the crepe cook until the batter appears almost completely cooked (it will become darker and matte) and the edges are beginning to brown, about 45 seconds. Carefully flip the crepe with a flexible silicon turner (they're the best for pancakes, really!) and cook the other side for 15 to 20 seconds.
Remove the finished crepe to a plate and repeat with the rest of the batter, brushing the pan with a little bit of oil between each crepe.
Serve quickly with any toppings you desire. Some listed below.
*Sweet options include: Fresh or dried fruits, chopped nuts, non-dairy yogurt, maple syrup, blackstrap molasses, peanut butter and fruit preserve. *Savory options include: Sautéed mushrooms, non-dairy sour cream, spinach and caramelized onions.
https://eatsparkcity.org/recipes/easy-vegan-buckwheat-crepes/