Heart Healthy Date Balls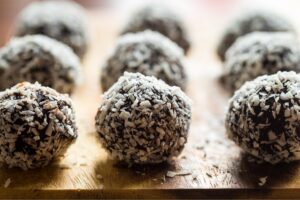 Ingredients:
20 Medjool dates
1 cup sunflower seeds
1⁄2 cup pumpkin seeds
1⁄2 cup shredded coconut
1⁄2 tsp cinnamon powder
2 T cocoa powder
1⁄4 tsp sea salt
1/2 cup dried cherries
Instructions:
In a food processor add dates and process until it is a paste.
Add sunflower seeds and pumpkin seeds and pulse until well chopped.
Add coconut, cinnamon, cocoa and sea salt and pulse to combine, scraping down sides as needed. If too sticky add additional coconut one tablespoon at a time.
Add dried cherries- pulse just enough to mix them in.
Remove from food processor.
Line a dish or baking sheet with parchment paper, scoop out mixture and evenly flatten mixture with clean hands or spoon.
Refrigerate for 30 minutes. Pop parchment paper with mixture out and place on cutting board. Then using a sharp knife cut into 20 bars.
Roll the soft bars into balls, and coat each ball in sunflower seeds or shredded coconut.
Store in the refrigerator or freezer.
Chef Holly Wilkens MS RDN
Fun Facts about Dates
The word "date" comes from a Greek word meaning "finger"
Dates are a sweet and yummy treat that is also high in heart healthy potassium and brain food magnesium
Dates have been being cultivated for over 8000 years
Dates grow in trees in regions with HOT long summers- they grow best when there are over 100 days of 100-degree weather!
[button color="orange" size="medium" align="left" link="https://eatsparkcity.org/wp-content/uploads/2016/03/EATS-recipe-dates-february-2016.pdf"]Download Recipe[/button]