Herbed Tabbouleh Salad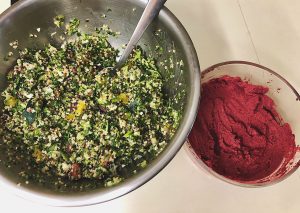 Ingredients
1/2 cup of quinoa
1 cucumber diced
1 large tomato diced
1 tsp sea salt
1 bunch of curly parsley
1/3 cup of chopped mint
1/3 cup of green onion
1/3 cup of olive oil
1/3 lemon juiced
1/3 cup of feta cheese
Instructions
Cook the quinoa according to the package, drain off excess water and set aside to cool.
Dice cucumber and tomato in a medium bowl with 1/2 tsp of salt and set aside.
Finely chop parsley or pulse it in the food processor
Add the cooled quinoa, parsley, lemon, garlic, feta, green onion, cucumber and tomato in a bowl.
Stir and refrigerate before eating if you have the time.
https://eatsparkcity.org/recipes/herbed-tabbouleh-salad/