Israeli Couscous Salad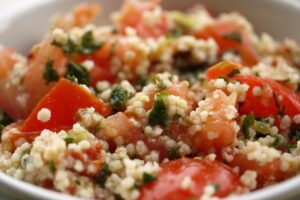 Ingredients
4 tbsp olive oil
1 cup Israeli couscous
2 cups water
1-2  gala apples
1/3 cup dried cranberries
1/3 cup of parsley
1/2 of a  medium shallot
1/4 cup of pepitas, almonds, or other nut 
Fresh mint to garnish
Juice from 1/2 of a lemon 
2 tbsp honey 
1/4 cup olive oil
1/4 cup of apple cider vinegar
Instructions
Heat 1 tbsp olive oil in a skillet, brown the couscous 2-3 minutes.
Add 2 cups of water and salt, then bring to a boil.
Simmer and cook under tender for about 6 minutes. Rinse and drain.
Finely mince the fresh herbs and dice the apples and shallots.
Toss in a bowl the apples, shallots, seeds/nuts, and herbs. Then, add the couscous once cooled. 
Mix apple cider vinegar, honey, salt, pepper, lemon, and olive oil. Pour over the salad. Best served once chilled.
https://eatsparkcity.org/recipes/israeli-couscous-salad/