Lemon Poppyseed Waffles with Vanilla Blueberry Sauce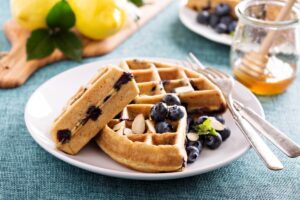 Lemon Poppyseed Waffles with Vanilla Blueberry Sauce
Calories: 531
Fat: 17 grams
Carbohydrates: 90 grams
Fiber: 9 grams
Protein: 10 grams
Allergens: Tree nuts
Ingredients
Waffles

1 cup oats, ground into a flour (or oat flour)
1 ¼ cups gluten free flour mix
½ teaspoon baking soda
1 ½ teaspoons baking powder
¾ teaspoon sea salt
1 tablespoon poppy seeds
1 ½ cups unsweetened almond milk
2 teaspoons apple cider vinegar or white vinegar
¼ cup melted vegan butter
1 ½ teaspoons lemon extract
½ teaspoon pure vanilla extract
2 tablespoons maple syrup

Vanilla Blueberry Sauce

3 cups frozen blueberries
1 teaspoon pure vanilla extract
1 teaspoon pure lemon extract
½ cup organic brown sugar or coconut sugar
2 teaspoons cornstarch + 2 teaspoons Water, mixed together
Instructions
For the Waffles

Mix the almond milk and apple cider vinegar together. Let sit for at least 3 minutes to create a vegan buttermilk.
In a large bowl, mix the oat flour, gluten free flour, baking soda, baking powder, sea salt and poppy seeds together. Set aside.
In a smaller bowl, mix all the vegan buttermilk, the melted vegan butter, the maple syrup and the pure vanilla extract and pure lemon extract.
Pour the wet ingredients into the dry and mix until combined.
Preheat your waffle iron in the meantime and grease according to manufacturer's settings. Using a ½ cup/125ml measuring cup, scoop out some batter and pour/spread into the middle of the greased waffle maker. You don't need to push it to the edges. Close and let cook until the steam has FINISHED rising from the waffle maker. Otherwise, the waffle will fall apart. Don't open it before the steam is finished! Remove each waffle and place on a baking sheet in your oven or toaster oven on "warm" or 200F/95C to keep warm and crispy until finished with the entire batter. Continue with the rest of the batter.
While the waffles are being made, you can prepare your vanilla blueberry sauce.

For the Sauce

Add all the ingredients to a pot over high heat. Bring the ingredients to a boil until blueberries begin to pop, and then reduce to a lower heat for 10 minutes, until the sauce begins to thicken. Feel free to add more cornstarch slurry if you want your sauce much thicker.
Serve the waffles with the vanilla blueberry sauce and enjoy!
https://eatsparkcity.org/recipes/lemon-poppyseed-waffles-vanilla-blueberry-sauce/