Lentil, Fennel, and Avocado Salad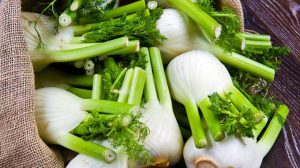 1 cup black or French green lentils, rinsed 1 bay leaf
1⁄2 teaspoon plus 3/4 teaspoon sea salt 1/4 cup extra virgin olive oil
3 tablespoons fresh squeezed lemon juice 1 clove garlic, minced
Freshly ground black pepper
1 fennel bulb trimmed and thinly sliced
1 carrot, cut in thin ribbons
1⁄4 cup loosely packed parsley leaves, chopped 1 avocado, sliced
1/3 cup lightly toasted pumpkin seeds
Fennel fronds
Put the lentils in a saucepan and cover with water at least 2 inches above the lentils. Add the bay leaf and the first 1⁄2 teaspoon salt. Bring to a boil.
Cook until the lentils are tender yet hold their shape and texture, 20-25 minutes. Drain, discarding the bay leaf. Set aside to cool.
Whisk the oil, lemon juice, garlic, the remaining salt, and pepper in a bowl. Add the fennel, carrot ribbons, and parsley. Mix in the cooked lentils. Taste. Add more lemon juice or salt if you wish.
Stir in the avocado slices and pumpkin seeds just before serving. Decorate with fennel fronds.
Makes about 8 (1/2-cup) servings.
Fennel Fun Facts
Fennel can be grown worldwide- even in your own backyard!
You can eat the entire fennel plant- bulb, stems and leaves.
Fennel has a similar flavor to black licorice.
Fennel is great for the digestive system and can even soothe an upset tummy.
EATS Cooking for Better Health
April 2016
Chef Letty Flatt