Mediterranean Beyond Breakfast Skillet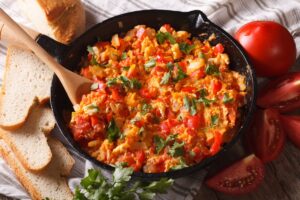 Mediterranean Beyond Breakfast Skillet
Ingredients
1 package (16oz) Beyond Beef or 4 Trifecta Beyond Beef patties
1 can artichoke hearts, drained
½ cup cherry tomatoes, sliced
1 can chickpeas, drained
½ cup sweet potato, small, diced
1 yellow onion, sliced thin
2 garlic cloves, minced
10 each, Kalamata olives, minced
1 tbsp. coriander
1 tbsp. rosemary (fresh or dried)
1 tbsp. oregano (fresh or dried)
2 tbsp. nutritional yeast
1 tbsp. paprika
Instructions
Heat medium cast-iron pan or skillet over medium heat.
Add chickpeas, sweet potato, garlic, and onion – sauté for 5 minutes, stirring often.
Deglaze the pan with lemon juice then crumble in the Beyond Meat.
Cook for 5 minutes until lightly browned then mix in the coriander, nutritional yeast, artichoke hearts, and tomatoes. Sauté on medium-high for 5 more minutes, turn off the heat.
Mix in the olives and fresh herbs then dig in and enjoy!
https://eatsparkcity.org/recipes/mediterranean-beyond-breakfast-skillet/