Mushroom Cauliflower Fried Rice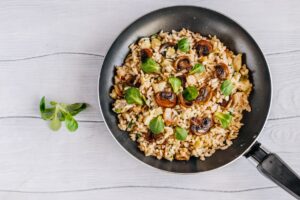 Mushroom Cauliflower Fried Rice
Calories: 225
Fat: 11 grams
Carbohydrates: 24 grams
Protein: 11 grams
Allergens: Sesame
Ingredients
1 ½ tablespoons sesame oil
5-6 large garlic cloves
5 stalks green onions chopped, white and green parts separated
1 red bell pepper, chopped
8 oz white mushrooms, sliced
2 tablespoons low sodium soy sauce
2 teaspoons Sriracha hot sauce
2 teaspoons rice vinegar
16 oz cauliflower rice (you can find in the refrigerator section in produce at most stores)
¼ teaspoon black pepper or more to taste
¼ teaspoon salt or more to taste
Instructions
Heat sesame oil in a wok on medium-high heat. Once the oil is hot, add the chopped garlic and sauté for a minute until it starts changing color.
Add green onion whites, bell pepper and sliced mushrooms. Cook for around 3 minutes on high heat, mushrooms will release water and turn golden brown.
Then add the soy sauce, rice vinegar, sriracha and mix.
Now lower the heat and add in the cauliflower rice and mix. Also add the salt and pepper and toss to combine.
Once all is combined, increase the heat to medium-high again. Cook for 5 to 6 to minutes (keep stirring in between) until the raw taste and smell of cauliflower rice goes away and it's cooked. It should not become mushy/soggy so keep the heat high.
Garnish with spring onion (the green part) and serve!
https://eatsparkcity.org/recipes/mushroom-cauliflower-fried-rice/