Mushroom Herbed Au Jus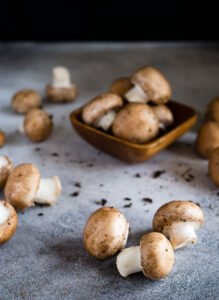 Recipe provided by Harmons. Gluten free, vegan.
Ingredients
1 ounce dried Portobello mushrooms soaked in 1 ½ cups hot water
1 cup sliced cremini mushrooms
1 tablespoon coconut oil
2 tablespoons tamari
¼ cup red wine
1 tablespoon lemon juice
1 sprig thyme
1 sprig rosemary
Instructions
Soak dried Portobello mushrooms in hot water for about 10 minutes.
Heat oil in the bottom of a sauce pan.
After the dried mushrooms have softened, use a slotted spoon to strain them from the soaking liquid, reserve the soaking liquid.
Add the mushrooms to the sauce pan, along with the sliced cremini mushrooms, and sauté until brown.
Add tamari and wine to pan, and bring to a simmer. Add reserved soaking liquid if the mixture needs to be thinned out a bit, and simmer for 10-15 more minutes.
Season to taste with salt and pepper.
Remove from heat and serve.
https://eatsparkcity.org/recipes/mushroom-herbed-au-jus/