No-Bake Carrot Cake Protein Bars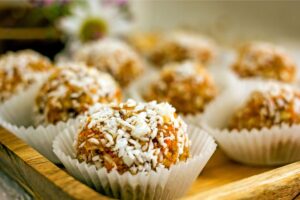 No-Bake Carrot Cake Protein Bars
Freeze Time: 1 hour
Calories: 208
Fat: 12 grams
Carbohydrates: 20 grams
Fiber: 6 grams
Protein: 7 grams
Allergens: Coconut, tree nuts
Ingredients
1 cup coconut flour
½ cup protein powder
1 tsp cinnamon
1/8 tsp nutmeg
Pinch of salt
½ cup mashed carrots
¼ cup cashew butter (or nut butter)
2-6 tbsp coconut milk
½ cup maple syrup
2 tbsp melted coconut oil
¼ cup chopped walnuts
1/3 cup shredded carrots
Instructions
Combine the dry ingredients in a large bowl. Whisk together.
Add the liquid ingredients, using 2-3 tbsp of coconut milk to start. Mix with a spoon, pressing down on the cashew butter to spread. Continue mixing the ingredients with your hands.
The dough will begin to clump together. If the mixture is too dry, gradually add more coconut milk.
Fold in the coconut flakes, walnuts, shredded carrots.
Firmly press the dough into a parchment lined 8x8 baking pan. Flatten and spread the dough into an even layer.
Chill in the refrigerator for 4-6 hours, or simply freeze for 1hr. Slice into squares or rectangles.
https://eatsparkcity.org/recipes/no-bake-carrot-cake-protein-bars/