One-Bowl Peanut Butter Protein Pancakes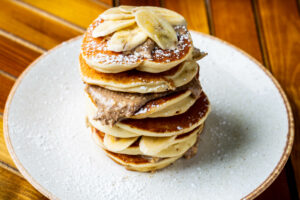 One-Bowl Peanut Butter Protein Pancakes
Calories (1 pancake, without toppings): 99
Fat: 5.1g (Sat Fat: 2.3g)
Carbohydrates: 10.8g
Protein: 2.9g
Allergens: Peanuts/Tree Nuts, coconut

Ingredients
1 batch flax egg (1 Tbsp flaxseed meal + 2 Tbsp water)
1/2 cup unsweetened plain almond milk
1/2 tsp apple cider vinegar or lemon juice
1 Tbsp maple syrup
1/2 tsp pure vanilla extract
1 Tbsp natural salted peanut butter (or sub other nut butter)
1 Tbsp coconut oil, melted (or olive or avocado oil), plus more for greasing griddle
1/2 tsp baking soda
1 tsp baking powder
1 pinch sea salt
3/4 cup ground rolled oats (oat flour)
Instructions
Prepare flax egg by adding flaxseed meal and water to a large mixing bowl and letting it sit for a minute or two to thicken.
To a measuring cup (or small bowl), add almond milk and apple cider vinegar (or lemon juice) and stir gently to combine. Set aside to "curdle."
To the flax egg, add maple syrup, vanilla extract, peanut butter, and melted coconut oil and whisk to combine.
Slowly add in almond milk mixture while whisking. Add baking soda, baking powder, and salt, and whisk to combine.
Next, add oat flour and stir until just combined. Let the batter rest while preheating the griddle (about 5 minutes). The batter will be thick once it rests, but that's a good thing! However, if it's too thick for your liking, thin with a little almond milk and stir.
Preheat an electric griddle to medium heat (about 350 degrees F), or use a large skillet on the stovetop (seasoned cast iron works great!). You want the surface to be hot but not screaming hot — oil shouldn't smoke when it makes contact with the surface.
Once hot, lightly grease your griddle with coconut or avocado oil and pour on scant 1/4-cup measurements of the batter. Flip when bubbles appear in the middle and the edges are slightly dry, being careful not to burn. Reduce heat if browning too quickly.
Cook for about 2 minutes more on the other side, then plate. Top with desired toppings, such as vegan butter or more peanut butter, banana, and a light drizzle of maple syrup.
*To freeze, arrange pancakes on a parchment-lined baking sheet and freeze until completely firm. Then store in a freezer-safe bag or container. Reheat in the toaster or microwave for best results.
https://eatsparkcity.org/recipes/one-bowl-peanut-butter-protein-pancakes/