Panzanella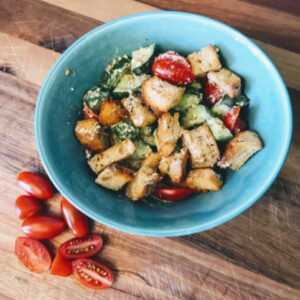 Ingredients
Salad

1 baguette
1 cup cherry or grape tomatoes
2 cucumbers
4 Tablespoons kalamata olives (optional)

Dressing

2 cloves garlic
½ cup Parmesan cheese
4 Tablespoons red wine vinegar
4 Tablespoons mayonnaise or plain Greek yogurt
1 Tablespoon Italian seasoning
Red pepper flakes
Olive oil
Salt and pepper
Instructions
Preheat the oven to 425'F.
Quarter the tomatoes and cucumber. Add to a large mixing bowl with 2 Tbsp of the red wine vinegar, and a dash of salt and pepper.
Using the flat side of your knife, smash the olives, discard the pits, and add to the mixing bowl.
Dice the baguette into ½ inch cubes. Lay the cubes onto a baking sheet and drizzle with olive oil, salt, and pepper. Use tongs to make sure the bread cubes are coated. Toast for 8 minutes or until light brown and crispy.
Make the dressing by whisking together the Greek yogurt (or mayonnaise), Parmesan cheese, 2 Tbsp red wine vinegar, 4 Tbsp olive oil, minced garlic, Italian seasoning, salt, pepper, and a dash of red pepper flakes.
Combine everything into one bowl and mix with a large wooden spoon. Add the croutons 5 minutes before serving.
Leftovers can be saved in the fridge for up to 3 days.
https://eatsparkcity.org/recipes/panzanella/