Super Muffins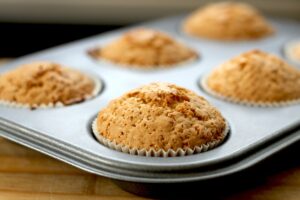 Ingredients
2 cups of almond meal
1 cup of old fashioned oats
2 tsp ground cinnamon
½ tsp nutmeg (if using)
1 tsp baking soda
½ tsp fine sea salt
½ cup of chopped walnuts (optional)
½ cup of raisins, craisins, dates, or chocolate chips
3 eggs, beaten
1 cup grated zucchini (about 1 zucchini, or sub more carrots)
1 cup grated carrots (about 2 carrots)
6 tbsp melted unsalted butter
½ cup of maple syrup
1 tsp vanilla extract
Instructions
Pre-heat oven to 350 degrees Fahrenheit.
In a large bowl, combine almond meal, oats, cinnamon, nutmeg, baking soda, sea salt, walnuts, craisins or whatever mixins you are using.
In a separate bowl, combine eggs, zucchini, carrots, butter, maple syrup and vanilla. Add this to the dry ingredients, mixing until combined. The batter will be thick.
Spoon into muffin cups. It's optional to line the muffin tin with paper or rubber cups. There is enough butter in the recipe where they won't stick to the pan.
Fill batter to the brim of the cups and bake for 25-30 minutes or until nicely browned on top. If a toothpick is inserted into the muffin and comes out clean, then they are ready.
Ways to adapt this recipe:
- You can ground up almonds in a blender to create almond meal, or substitute for ground oats (creating oat flour), or just use regular flour).
- Omit the nutmeg for more cinnamon, if desired.
- Have fun with combinations for the ½ cup of walnuts, ½ cup of mixins. I omitted walnuts and added ½ cup of craisins, ½ cup of chocolate chips.
- Omit the zucchini and add more carrots! Omit the carrots and add more zucchini!
- Instead of using ½ cup of maple syrup, add 1/4 cup coconut sugar, ¼ cup of maple syrup. Or just use regular sugar.

To make this recipe vegan:
- Use 6 tbsp of melted coconut oil or Earth Balance butter.
- Substitute the eggs for flax eggs.

https://eatsparkcity.org/recipes/super-muffins/