Vegan Banana Bread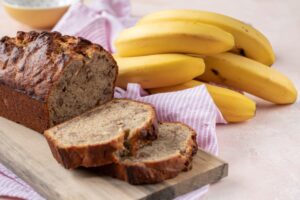 Calories: 190
Fat: 7 grams (Saturated Fat: 6 grams)
Carbohydrates: 29 grams
Protein: 2 grams
Allergens: Gluten, wheat
Ingredients
1 cup granulated sugar
1 ½ cups mashed ripe bananas (3 medium)
½ cup refined coconut oil, melted
1 teaspoon vanilla
¼ cup unsweetened vanilla almond milk or soy milk
1 teaspoon apple cider vinegar
2 cups all-purpose flour
¾ teaspoon baking soda
½ teaspoon salt
½ cup chopped walnuts, if desired
Instructions
Heat oven to 350° F. Grease bottom only of 9 x 5 x 3-inch loaf pan.
In a large bowl, beat sugar, bananas, coconut oil and vanilla until smooth. Stir in almond milk and vinegar. Add flour, baking soda and salt; stir just until moistened. Stir in walnuts. Pour into pan.
Bake for 1 hour to 1 hour 10 minutes or until a toothpick inserted in the center comes out clean and the crack in top of loaf appears dry. Cool 10 minutes. Loosen sides of loaf from pan; remove from pan, and place on cooling rack. Cool completely, about 1 hour, before slicing. Wrap cooled bread in plastic wrap, and store in the refrigerator.
https://eatsparkcity.org/recipes/vegan-banana-bread/