Cheesy Chickpea & Tomato-Stuffed Zucchini Boats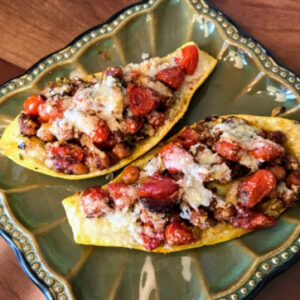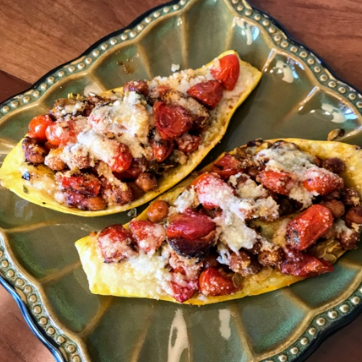 Cheesy Chickpea & Tomato-Stuffed Zucchini Boats
Ingredients
2 zucchinis
1 cup cherry or grape tomatoes
1 teaspoon dried oregano
1 teaspoon dried thyme
1 can chickpeas (garbanzo beans)
2 teaspoons smoked paprika
½ cup Parmesan cheese
Red pepper flakes
Olive oil
Salt and pepper
Instructions
Preheat the oven to 425'F.
Open the can of chickpeas and rinse in a colander under cold running water. Put them in a medium sized mixing bowl wrapped in a kitchen towel to dry.
Slice the zucchinis in half lengthwise so you have 4 zucchini boats. Then, using a spoon, gently scoop out the middle seedy section of the squash (save the flesh).
Slice the tomatoes in half.
Line a baking sheet with parchment paper and place the zucchini boats, zucchini flesh, tomatoes, thyme, oregano, salt, pepper, and 1.5 Tbsp olive oil on top, use tongs to ensure everything is coated in oil and herbs then push everything to one half of the baking sheet.
In a small bowl, add the chickpeas, smoked paprika, ½ Tbsp olive oil, red pepper flakes, salt and pepper and mix until everything is evenly coated. Add the chickpeas to the other half of the baking sheet and roast for 20 minutes.
Using a spatula, scoop the tomatoes, chickpeas, and zucchini flesh into the zucchini boat then top with cheese.
Return to the oven for another 7 minutes until the cheese has melted.
https://eatsparkcity.org/recipes/cheesy-chickpea-tomato-stuffed-zucchini-boats/