Curry Lentil Soup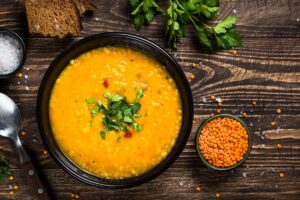 Calories: 269
Fat: 15.6 grams
Carbohydrates: 26 grams
Fiber 10 grams
Protein: 10 grams
Allergens: Coconut
Ingredients
1 tbsp. light oil (canola, vegetable)
1 yellow onion, chopped
3 cloves garlic, minced
1-inch piece ginger, minced
3 cups vegetable broth
1 28 oz can diced tomatoes
1 cup brown or green lentils
2 tbsp. curry powder
1 tsp. cumin
½ tsp. salt
¼ - ½ tsp. cayenne (optional for spice)
1 ½ cups full-fat coconut milk (canned)
1 handful cilantro, chopped
Instructions
In a large soup pot, heat the oil over medium-high heat. When hot, add the onion, garlic, and ginger. Sauté for about 5 minutes until the onions turn translucent and begin to brown.
Stir in the vegetable broth, diced tomatoes, brown or green lentils, curry powder, cumin, salt, and cayenne (if using). Cover and bring to a simmer. Cook for about 25 minutes until the tomatoes are cooked and the lentils are tender.
Stir in the coconut milk and heat through. Serve hot and garnish with cilantro.
*If you would like to use red lentils, do not add them until the last 10 minutes of cooking so they don't get mushy.
*Sub regular coconut milk for a light or reduced fat option to make dish healthier.
https://eatsparkcity.org/recipes/curry-lentil-soup/