Deer Valley Chicken Enchiladas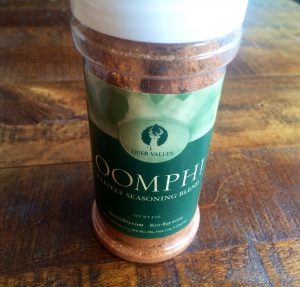 Makes 8 Enchiladas
Enchilada Ingredients
1.5 pounds of pulled chicken meat
2/3 cup of red onions, diced small
2 tbsp OOMPH (Can be purchased at Deer Valley Resort or Super Market)
3 oz. cheddar cheese, grated
2/3 cup sour cream
2/3 cup cilantro, chopped
salt and pepper to taste
8 nine-inch corn tortillas
monterey jack cheese, grated
red enchilada sauce (see recipe below)
Deer Valley Red Enchilada Sauce Recipe
Sauce Ingredients
5 oz butter
3.5 tbsp of puréed garlic
1/2 cup of OOMPH (Can be purchased at Deer Valley Resort or Super Market)
3.5 tbsp of Californian chilli powder
1/2 tsp bay leaves
4 oz tomato juice
4 oz V-8 vegetable juice
Sauce Instructions
Melt the butter.
Sauté the garlic for 2 minutes. Add the OOMPH, chilli powder and bay leaves.
Sauté for 5-8 minutes.
Add the juices, simmer for 30 minutes, stirring regularly.
Chill the sauce.
Enchilada Directions
Preheat oven to 350 degrees.
In a mixing bowl mix all ingredients together except the cheese and the enchilada sauce.
Roll about 1/2 cup (or no more than 1 cup) of the mix into each 8″ or 9″ corn tortilla.
Cover with foil and bake in the oven at 350 degrees for approximately 20 minutes or until the internal temperature reaches 165 degrees.
Remove the foil, smother with the red enchilada sauce and sprinkle top with monterey jack cheese. Return to the oven until the cheese is melted.
Serve with a nice green salad and black beans.