Kale and Farro Salad with Almonds and Pomegranate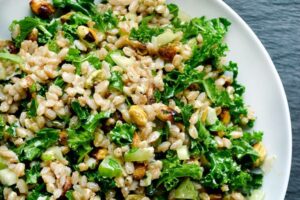 Kale and Farro Salad with Almonds and Pomegranate
Calories: 199
Fat: 15.9 grams
Carbohydrates: 13.6 grams
Fiber 4.4 grams (16%)
Protein: 4.3 grams 9%)
Allergens: Gluten, wheat, tree nuts
Ingredients
1 cup cooked farro (or sub wheat berries, bulgur wheat, quinoa, or any other grain of choice)
1 bunch kale (8-10 ounces), finely chopped, about 4-5 cups
4 tbsp olive oil
½ tsp salt
1 bunch flat leaf parsley, very finely chopped, about 1-2 cups
¼ cup red onion, finely chopped
1 cup pomegranate seeds
½ cup – 1 cup toasted almonds, chopped, slivered, or sliced
1 tbsp lemon juice, and more to taste
½ tsp allspice, more to taste
½ tsp cinnamon (optional)
Instructions
Start farro to cook on the stove (1/2 cup dry). Place in a pot of salted water, bring to a boil, lower heat, cover, simmer gently until tender, 30-40 minutes. Drain.
Chop kale finely and place in a large bowl. Add oil, salt, garlic, and lemon zest. Massage the kale with clean hands until the kale becomes tenderized, 4-5 minutes.
Add parsley, onion, pomegranate, almonds, and farro. Toss to combine and add lemon juice, allspice, and cinnamon (optional).
Mix and taste, adding more salt, allspice, and lemon to your taste. If making ahead, make sure to re-taste right before serving as the farro will soak up much of the salt and lemon)
For extra richness, may add sliced avocados if you would like.
https://eatsparkcity.org/recipes/kale-and-farro-salad-almonds-pomegranate/