Lemon Chickpea Orzo Soup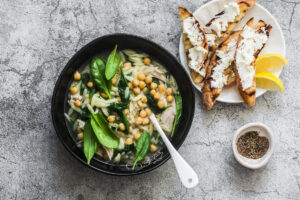 Calories: 302
Fat: 12.3 grams (Saturated Fat: 1.7 grams)
Carbohydrates: 43 grams
Protein: 12 grams
Allergens: Gluten, wheat, sesame
Ingredients
1 tablespoon olive oil
½ onion, diced
3 carrots, peeled and diced
3 cloves garlic, minced
7 – 8 cups vegetable broth or water (or combo)
1 cup whole wheat orzo
2 15 oz. cans chickpeas, drained and rinsed
1/3 cup tahini
¼ – ½ cup lemon juice (about 2 – 4 large lemons)
Large handful fresh baby kale or spinach
Chopped fresh dill, to taste
Salt, to taste
Fresh cracked pepper or lemon-pepper, to taste
Instructions
Heat broth or water over medium heat. Add onion and carrot. Sauté for about 5 – 7 minutes. Add the garlic and sauté for 1 minute more.
Add the broth or water, bring to a boil, add the orzo and chickpeas, then reduce heat to medium-low and cook at a gentle boil for 8- 9 minutes. Orzo should be tender.
Remove from heat. Add tahini and lemon juice (start with the smaller amount of juice, adding more to taste), stir well. Add the baby kale or spinach, give a good stir--greens will soften and wilt within a few minutes. Add as much dill as you like, and season well with salt and pepper. Soup will thicken upon standing, add more liquids as needed.
Serve in an individual bowl with your favorite crusty artisan bread for soaking up the juices.
https://eatsparkcity.org/recipes/lemon-chickpea-orzo-soup/