Maddie's Appalachian Ratatouille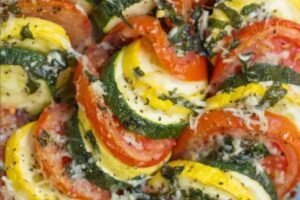 Maddie's Appalachian Ratatouille
Ingredients
2 thick zucchini
1 thick summer squash
1 thin eggplant
Olive oil
5 Roma tomatoes
1/2 butternut squash (peeled and seeded)
3 cloves garlic
1 onion
1 bell pepper
3 carrots
1/3 cup white wine (optional)
Salt and pepper
Italian seasoning (about 1 Tbsp) or a blend of dried oregano, basil, coriander, and rosemary
6 fresh thyme sprigs
10 leaves of fresh basil
2 tbsp fresh parsley
3 tbsp olive oil
2 cloves garlic, minced
Instructions
Preheat oven to 375 F.
Bring 2 quarts of water to a boil in a large saucepan or pot. Fill a second pot with cold water.
Crudely chop butternut squash, garlic, onion, bell pepper, and carrots.
And add to well-oiled, oven-safe, cast-iron skillet. Sauté on medium/high heat until squash is softened. (Optional: Add white wine and continue cooking until wine is evaporated.)
Place tomatoes in boiling water for about 60 seconds — until the skin starts to break/peel. Then transfer tomatoes to cold water.
Once the tomatoes are cool enough to hold, peel off and discard the skin. Place tomatoes in the food processor. Add most of the squash mixture to the processor (leaving behind some to have a chunkier sauce).
Add salt, pepper and spices. Blend until fairly even consistency and then return to the skillet on medium heat for about 15-20 minutes.
Slice zucchini, eggplant, and yellow squash into coins (1/4 inch thick). If the eggplant has a much wider diameter, you can slice the coins in half for aesthetics.
Stack/organize all the coins with some order and (CAREFULLY!) organize them so that they are upright in the skillet in concentric circles (about half of each coin will be in the sauce).
Lightly drizzle the entire skillet with oil, and dust with salt and pepper.
Chop fresh basil leaves and put in a separate small bowl with olive oil, garlic, parsley, salt and pepper. Mix with a fork.
Add basil mixture to garnish the tops of the coins (you won't cover each and every coin, and that's alright). Top with thyme sprigs.
Cover the skillet and place in the oven for about 30 minutes. Then remove the cover and continue cooking for another 15-20 minutes.
Remove from the oven and serve with toasted bread.
https://eatsparkcity.org/recipes/maddies-appalachian-ratatouille/