Sweet Potato Crust Pizza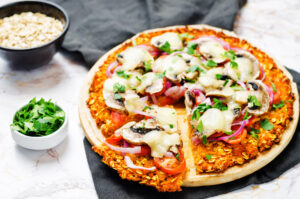 This pizza is a weeknight game changer! These are leftovers you will want to eat… if there are any!
Ingredients
For the Crust

2 cooked medium sweet potatoes
1 ? cups of oats
2 eggs
2 tablespoons of olive oil
Spices like garlic powder, salt, and pepper!

Topping Ideas

Cheese of choice (goat and feta are so good on this)
Barbecue for the sauce
Bbq chicken or bbq jackfruit
Arugula
Mushrooms
Onions
Instructions
Preheat oven to 400 degrees.
Pulse all the crust ingredients in a food processor.
Transfer to a parchment-lined baking sheet and form into dough 1/2 -¼ inch thick.
Drizzle a small amount of olive oil and bake about 20 minutes or until the top is dry to touch.
While that is cooking, prepare, and pre-cook your toppings of choice!
Sautee garlic, onions, and mushrooms in olive oil.
Add 1 can of drained jackfruit or meat of choice and simmer for 5 minutes.
Add ¾ cup of barbeque sauce. Let this simmer for another 10 minutes.
Smother this over your sweet potato pizza, add cheese, and bake until cheese is melted about 10 minutes. Remember not to add too many toppings or else you will be eating sogginess (I admit I get way too topping-excited)!
Garnish with fresh cilantro and enjoy!
https://eatsparkcity.org/recipes/sweet-potato-crust-pizza/