Thai Turkey Tacos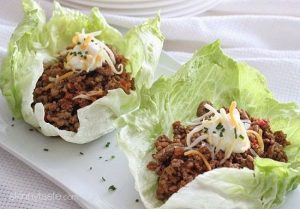 Serves 4 people
Turkey Mix
1 lb. ground turkey
1⁄4 cup finely chopped ginger
2 tablespoons chopped garlic
1⁄2 cup chopped cilantro
1⁄2 cup Teriyaki Sauce (see below)
1 lime
1 head green cabbage
1⁄4 cup vegetable oil
Preparation
Place a medium sauté pan on medium heat and add 1⁄4 cup vegetable oil.
Once pan reaches a smoking point, add ginger and garlic and fry for 2 minutes, moving constantly.
Add turkey, season with 2 tsp salt and cook the meat through.
Add the chopped cilantro and teriyaki sauce, mix well.
Teriyaki Sauce
1 cup soy sauce
2⁄3 cup Mirin (rice wine)*
3 tablespoons rice vinegar
2 teaspoons sesame oil
1/3 cup sugar (or honey)
2 Tablespoons chopped ginger
2 Tablespoons chopped garlic
1 Tablespoons sesame seeds
1 teaspoon red chili flakes
Preparation
Place sesame oil in a sauce pot on medium heat.
Add ginger and garlic and sweat for 2­3 minutes until soft and translucent.
Place the rest of the items in the pot and bring to a simmer to dissolve the sugar. Remove from heat
and transfer to a container to cool.
Rice
1 cup brown rice
1 1⁄2 cups water
1 teaspoon sea salt
Preparation
Place rice, water and sea salt in a pot and bring to a simmer over medium heat.
Reduce heat to low and cover with a lid.
Steam for 30 minutes until dry and fluffy.
Assembling the tacos
To finish, break whole cabbage leaves off the head of cabbage.
Spoon 1⁄4 cup of brown rice, 1⁄2 cup turkey mix into cabbage leaves and top with cilantro and lime
wedge. Enjoy!
*Some ingredients in this recipe can be found in the Asian food section in the grocery store.