Slow Cooker Turkey Bean Chili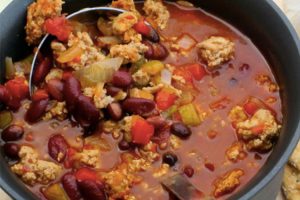 Slow Cooker Turkey Bean Chili
Ingredients
1 tbsp of olive oil
1 red onion
1 bell pepper
2 cloves of garlic
1 1/2 pound of ground turkey
1 28 oz can of tomatoes
1 15 oz can of black beans
1 15 oz can of kidney beans
1 1/2 cup of vegetable stock or bone broth
2 jalapenos
2 celery stalks
1 tbsp of chili powder
1 bay leaf
2 tsp cumin
1 tbsp salt
1 tsp pepper
Optional: cheddar cheese and green onions to garnish
Instructions
Slow Cooker Directions:

Drain and rinse beans.
Combine all ingredients to the slow cooker and let cook on high for 3-4 hours until vegetables are cooked through.

Stovetop Directions:

In a large pot, sauté onions and garlic over medium heat until onions are translucent and garlic is golden brown.
Add turkey and peppers until cooked.
Add beans, broth, tomatoes, and spices.
Cook on low for about 30 minutes.
https://eatsparkcity.org/recipes/turkey-bean-chili/