Gluten-Free Zucchini Lasagna (Deer Valley Lasagna)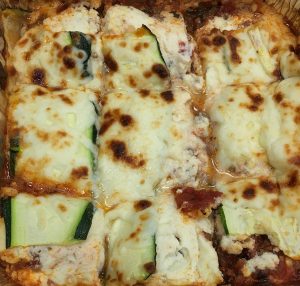 This recipe was taste-tested on September 14th, 2016.
Serves 8 – 10
Ingredients:
1 pound 93% lean ground beef
1 1/2 teaspoons kosher salt
1 teaspoon olive oil
1/2 large onion, chopped
3 cloves garlic, minced
1 can crushed tomatoes (28 oz.)
2 tablespoons chopped fresh basil
black pepper (to taste)
3 medium (8 oz.) green or yellow zucchini, sliced 1/8″ thick lengthwise (use local when possible)
1 1/2 cups ricotta (skim works well)
1/4 cup Parmesan cheese
1 large egg
4 cups shredded part-skim mozzarella cheese
Directions:
Preheat oven to 375°
In a medium pan, brown meat and season with salt. When cooked, drain in colander to remove any fat. Add olive oil to the pan and sauté garlic and onions for about 2 minutes. Return the meat to the pan, add tomatoes, basil, salt and pepper. Cover and simmer on low for at least 30 – 40 minutes. Do not add extra water — the sauce should be thick.
Meanwhile, salt the sliced zucchini and set aside for 10 minutes. Zucchini has a lot of water when cooked, so salting it takes out a lot of moisture. After 10 minutes, blot excess moisture with a paper towel.
In a hot pan, sauté each side of the zucchini quickly and drain on paper towel.
In a medium-sized bowl, mix ricotta cheese, Parmesan cheese and egg. Stir well.
In a 9×12 casserole dish, spread 1/2 cup of tomato/meat sauce on the bottom and layer zucchini to cover. Spread 1/2 cup of the ricotta cheese mixutre, then top with 1 cup of mozzarella cheese. Repeat until you use most of your ingredients but make sure your last layers are zucchini and sauce (and you should keep 1 cup mozzarella aside).
Cover with foil and bake for 30 minutes.
Remove the foil and bake for an additional 20 minutes.
Place the remaining 1 cup of mozzarella on top and bake until melted (about 10 minutes).
Let stand about 5 – 10 minutes before serving.
This dish freezes beautifully to re-heat later!