Zucchini Lasagna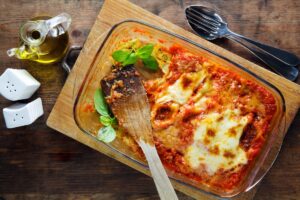 Zucchini Lasagna with Zucchini from Copper Moose Farms and EATS Gardens
Ingredients
4-5 medium-large zucchinis, sliced thin (1/8-inch cuts)
1/2 cup parmesan cheese
3 cups mozzarella, shredded
3 cups tomato sauce
2 teaspoon fresh oregano
3 Tablespoons fresh basil

Ricotta Filling

3 garlic cloves, minced
1 1/2 cups ricotta cheese (drained of liquids)
1/4 cups parmesan cheese
1 egg
pinch of salt
1/4 teaspoon black pepper
1/4 cup fresh basil, chopped (for dried basil use 2 Tablespoons)
Instructions
Preheat oven to 375F.
Salt & pre-bake zucchini noodles: arrange zucchini slices on sheet pan lined with parchment paper. Sprinkle with course sea salt – let sit for 5-10 minutes so zucchini "sweats" any excess moisture. Use paper towels to press and dry zucchini noodles. Then bake noodles for 8-10 minutes – pat them dry when finished baking. Note: pre-baking the zucchini will help dry up even more moisture from the noodles.
Ricotta filling: in a medium-sized bowl, mix all of ricotta filling ingredients together.
Layer ingredients: In a 13×9 baking dish, layer lasagna: spread a thin layer of sauce on the bottom of the dish, add layer of cooked zucchini noodles, thin layer of ricotta filling, and mozzarella cheese & little parmesan, and generous sprinkle of freshly cut oregano & basil. Repeat each step until finished. On top layer with sauce, mozzarella cheese, and parmesan cheese.
Bake: Leave dish uncovered and bake for 40-45 minutes, then broil on HIGH for 1 to 2 minutes until cheese is browned. Sprinkle with chopped fresh basil.
Slice and enjoy!
https://eatsparkcity.org/recipes/zucchini-lasagna/