EATS Updates, Gardening Classes & What the FORK!?

Thank you, everyone, for your bountiful support over the years. Because of your belief in fresh, nutritious food, and desire to grow a healthier community EATS has taught more than 50 essential life skills cooking classes in our 2019/20 school year! Growing healthier generations and combating the root causes of chronic illnesses is a long-game and your generous support is making a difference, every day. Thank you!
Looking at what we want to accomplish in the days ahead, we are facing a substantial deficit $50,000 due to the COVID crisis, and we need YOU if EATS is to have a productive future. Many of you have asked, "How can I help EATS?", and for that we are grateful! You can have your cake and eat it too. EATS' signature event, FORK in the Road is postponed. However, we invite you to "attend" What the FORK!?
Whether you join us for the event or choose a one-time donation, or become a monthly donor your contributions are both appreciated and make a difference! EATS currently has a challenge to find 42 community members willing to become monthly donors at $20/month for 2020. Won't you join us? Your generosity helps EATS continue our essential life skills education and food security programs to ensure our children and their families are well-fed and nourished.
Thank you for your consideration, and continued support of EATS in the many ways you do. We are here for you, to nourish you, entertain you, and share in good health with you.
Thank you again for your support!


Executive Director
---
Twisted Fern is a proud supporter of EATS Park City…
Help us show them some love!
Twisted Fern's to-go menu features longtime favorites customized to the to-go experience.  Fresh spring flavors complement the restaurant's commitment to offering a creative, culinary experience for all dietary preferences. 

Offering curbside pick-up Wednesday – Saturday beginning at 5:00 p.m.
Order online or call 435.731.8238.
---
MayDay Gardens!
Do you want to connect to your food? Get a little dirty to "eat clean?"
A MayDay Garden may be for you. A sister organization from Montana, Cultivating Connections, has created MayDay Gardens so anyone can grow their own food.
Check out this Youtube channel for resources and tips.
Have fun planting, caring for, harvesting, and eating 'Your Future Food'! Congratulations on taking part in creating resilience for Utah by growing some of your own food.
If you would like seeds and an EATS garden guide please email Graham Pickett, EATS' Garden Coordinator at graham@eatsparkcity.org.
---
EATS Garden Lessons
To get your backyard garden off the ground check out EATS Pallet Garden Lesson and enjoy the fruits of your labor. 
Volunteer in the Garden
EATS also has two plots at Summit Community Gardens to grow produce for our summer classes and donate the rest to our community. If you want to get your hands dirty in our garden space please email Graham Pickett, EATS' Garden Coordinator at graham@eatsparkcity.org.
---
What the FORK!? FORK in the Road has been postponed…
But as with all the greats, a spinoff has emerged: What the FORK!?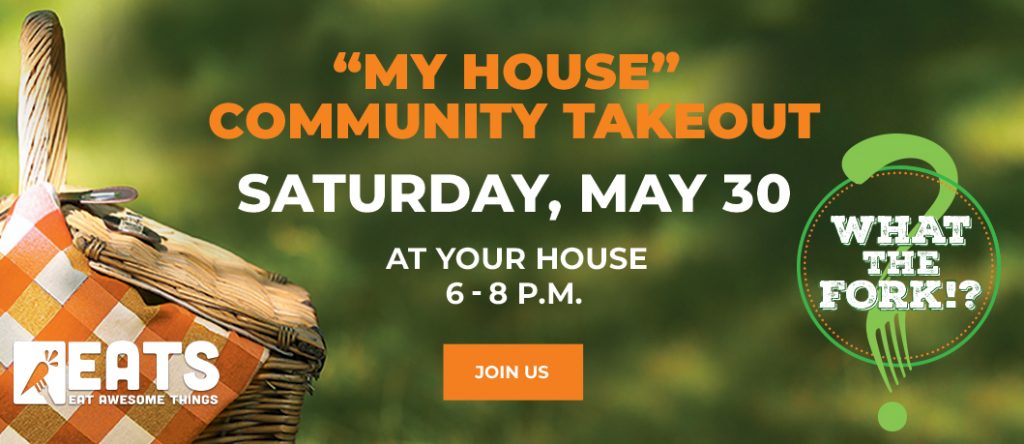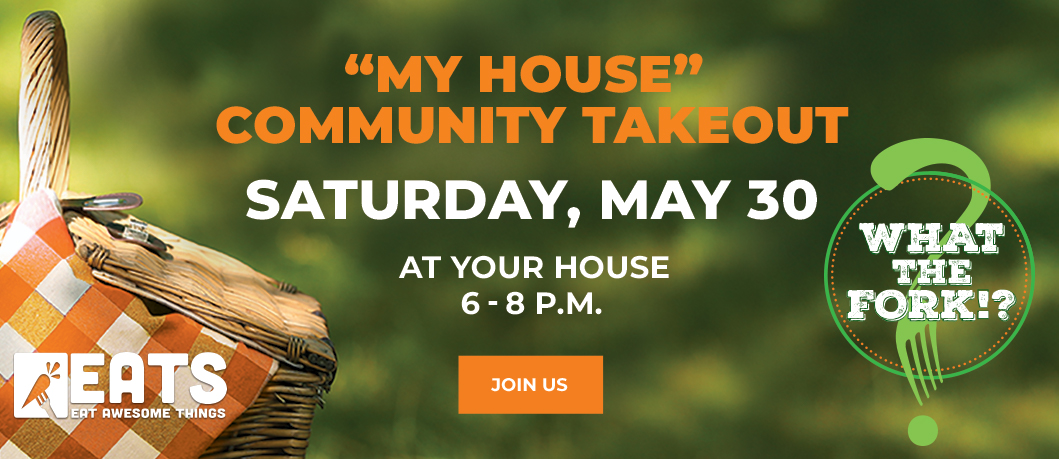 WE DON'T HAVE TO GO OUT…to be together!
Save the Date for Saturday, May 30 from 6 pm – 8 pm!
All proceeds from What the FORK!? goes to supporting EATS' food security efforts for our community members facing food insecurity.
There are more than 1300 children in Summit County facing food insecurity, many of them in our greater Park City community. 
Support EATS' food security efforts by joining in the "My House" Community Takeout event on May 30th in partnership with Twisted Fern, High West, & Hearth and Hill.
The My House Community Takeout has been crafted to bring our community together while we stay apart and ultimately help raise much-needed funds to provide healthy food options for those in need.
Here's How it Works:
You invite your friends and family to "attend" by purchasing a "ticket" for $25/person.
Choose your favorite from our restaurant partners (coming soon).
On May 30th you can expect a handcrafted meal ready for you to pick up, specially created for What the FORK!?
The event will include live-streamed entertainment from 6 pm – 8 pm and a silent auction! We can't wait to dine with all of you!
During the event, please encourage your "guests" to make a donation of $100 to EATS to support our food security program for families in need in our community.
Questions? Please call Meaghan at 801-635-4129 or email her at meaghan@eatsparkcity.org.
---

What to cook with canned tomatoes? How to make vinegar at home? We're intrigued Catching Up with Lynne Rosseto Kasper, an American Food writer, and journalist.
"If this continues for a year or longer, I think we will have permanently wired new ways of producing, sourcing, processing, distributing and consuming healthier foods." – Stephan Dolezalek
This vision of the post-pandemic food system looks a lot like a microgrid.