Pantry Items You Can Make At Home
Making some of your own pantry items is simpler than one may think. It is less expensive than purchasing at the store, saves searching time, and is much healthier. Try making some of these at home for a fun and quick activity with the kids!
Bread Crumbs
To make your bread crumbs, combine bread (it can be a little stale or hard), garlic powder, dried rosemary, salt and pepper to a food processor and pulse until coarse crumbs form. Then, bake on a pan at 300 degrees for 15 minutes or until crunchy!
Granola
Tired of spending $6.00 on granola from the store every week? Struggling to find healthier cereals with less sugar? Try making it at home with ingredients you probably already have in your pantry.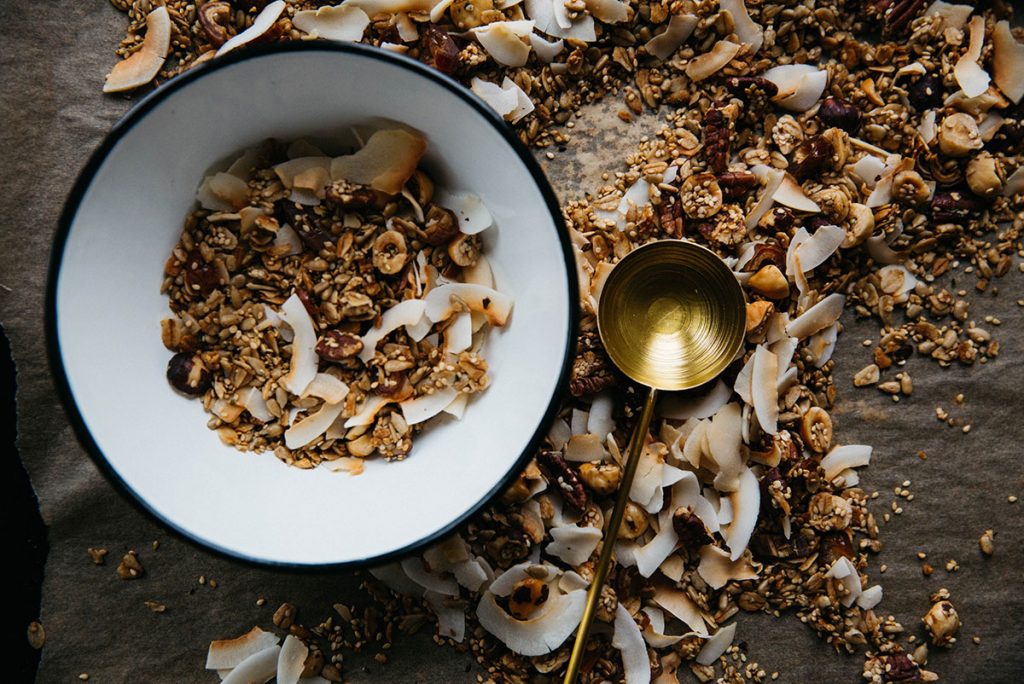 All you need is:
2 cups of rolled oats
1 cup of nuts and/or seeds
½ cup of melted coconut oil or your preferred oil
⅓ cup of maple syrup or honey
2 tsp cinnamon
1 tsp sea salt
2 tsp vanilla extract
Other possible variations include adding dried fruit, coconut flakes, peanut butter, or other warming spices such as nutmeg.
Whisk together wet ingredients and spices then pour over your dry ingredients. Toss all in a bowl and then bake in the oven for 20 minutes at 350 degrees until golden brown.
Homemade Vegetable or Chicken Stock
Making vegetable stock is more hands-off than people think. It's great to make when you're home all day! All it takes is collecting a bag of vegetable scraps and simmering them over the stove! It also fills the house with comforting and delicious smelling aromas.
Step 1: Every time you have trimmings from carrots, celery, mushrooms, garlic, onions, broccoli, and (if desired) chicken or turkey, toss them in a freezer bag and add to them whenever you have more scraps. Even the onion peels, carrot peels, and garlic peels are great to add.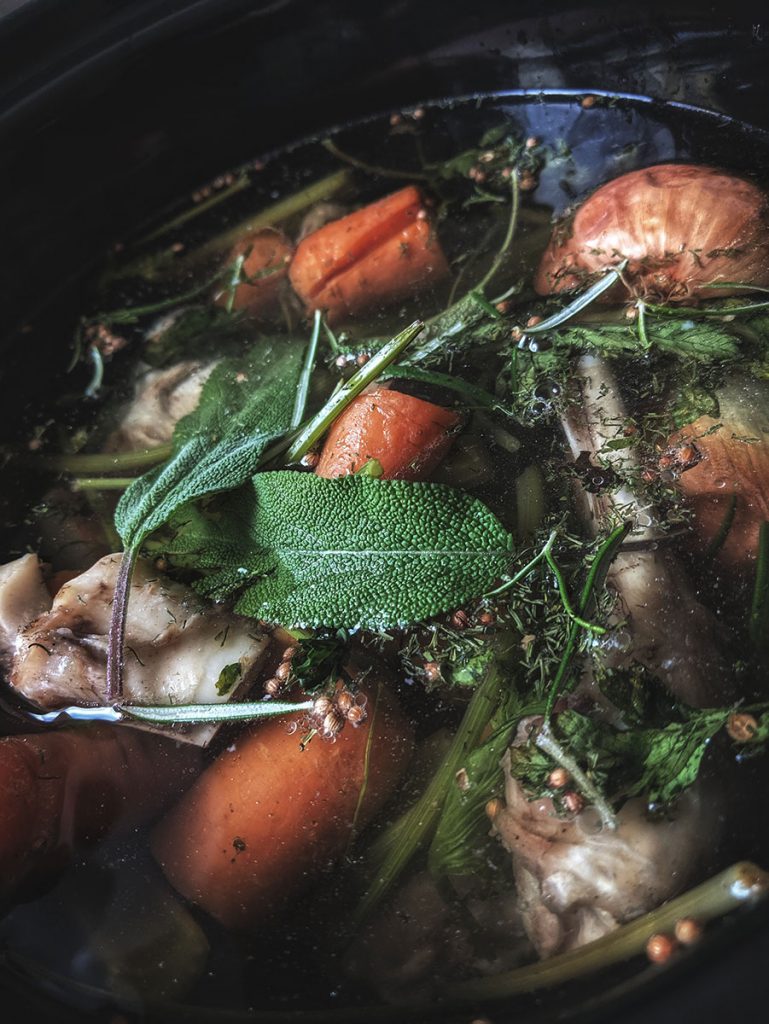 Vegetables to avoid while making stock include potatoes, turnips, beets, zucchini, and green beans. These can overpower their counterparts or become bitter when cooked for this long.
Step 2: Once you have a full bag, dump all the vegetable remains in a big pot with enough water to cover. Add a few peppercorns, a bay leaf, and any herbs you prefer to cook with. Thyme and rosemary or dried oregano are a few that complement this well. Simmer this partially covered for a few hours and skim off any foam that may rise. After a few hours, taste to see if you like the flavor. It's okay if it's blander than you thought, just remember it's to supplement the water you cook grains in or the base of a soup. It's best to add the desired seasonings when you are making a dish with the stock.
Step 3: Strain and store the stock in containers. Let it cool completely, then refrigerate for up to 1 week or freeze up to 3 months.
Oat Flour
Making oat flour is simple, inexpensive, and gluten free. Finely blend the oats in the food processor until it's blended to a flour consistency. You can use oat flour in muffins, waffles, pancake mixes, breads and more!
Powdered Sugar
Do you ever aspire to bake something that includes powdered sugar but don't have it in the pantry? Luckily, making powdered sugar is very easy. All you need is 2 cups of sugar, 2 tablespoons of cornstarch, and a powerful blender. Simply blend these two ingredients on high until a powder consistency forms.
Salad Dressing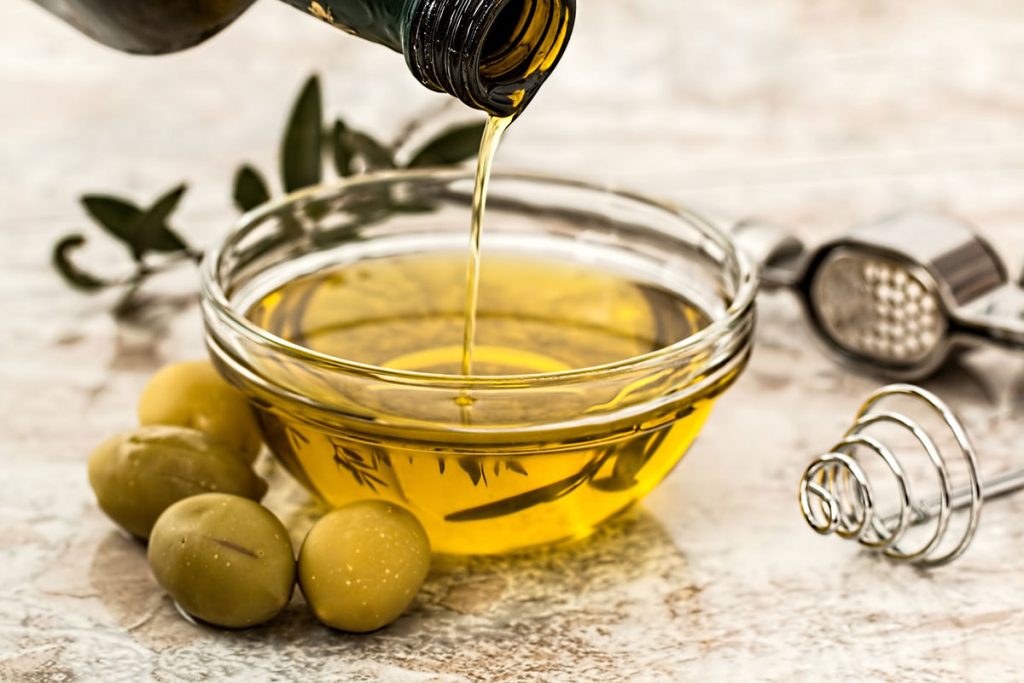 Making your own salad dressing is simple, fun, and usually requires ingredients you already have like olive oil, vinegar, and spices. To make a balsamic dressing that goes well with many salads, combine olive oil, balsamic, dijon mustard, honey, and garlic to a blender. Add it to a jar and enjoy over salads for the week. Making your own salad dressing not only saves money but is also healthier. There is no added sugar, no ridiculous amounts of sodium, and no risk of buying something you dislike. Below is a recipe that is a personal favorite.
Ingredient measurements:
¼ cup balsamic
1 tbsp dijon mustard
1 small clove of garlic
½ cup of olive oil
3 tbsp honey
Homemade Taco Seasoning
Making your own seasoning tastes like the purchased packets and contains less sodium. This recipe can be kept in the pantry for months and is easy to customize for your taste buds.
1 tbsp of chili powder
1 tsp of salt
1 tsp of black pepper
2 tsp of garlic powder
2 tsp of onion powder
¼ tsp of cayenne pepper
We hope you try some of these and enjoy them! Making these recipes can spark creativity in all your cooking endeavors to come.