Taste Tests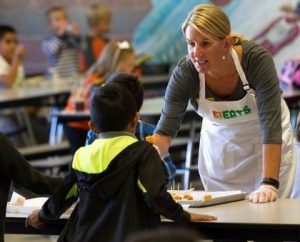 Before healthy foods become the norm for kids, they first have to try them! Experts cite it takes multiple exposures to a food before a child will accept it, so trying healthy food is a big step toward building lifelong healthy eating habits among students. School Taste Tests provide an equitable mechanism for exposing youth to new foods; they are conducted at lunchtime in the schools' cafeterias by EATS volunteers with preparation assistance by cafeteria staff.
Taste Tests promote healthy eating
Feedback from Park City parents suggests that Taste Tests at school also improve eating habits at home:
"The taste tests have inspired conversations at school and at home. Thank you for your commitment to help kids make good choices." – Allie Davis, McPolin parent
"After trying tomatoes at school, my son asked me to buy them!" – Parley's parent
In addition to developing better eating habits, results from Taste Tests assist in improving the school lunch menu by giving the schools data about what students will eat. EATS used student voting data to show that 60-80% of tasters "Liked" each new food they tried, encouraging the school district to offer more of these healthy options.
Taste Tests for the 2017 - 2018 school year
Taste Tests will occur once each month. Potential new recipes created by the district's task force will be offered for each Taste Test. EATS volunteers will be assisting the district with Taste Tests, offered as part of their new Adventure Bites program.
Check out past Taste Tests on our blog.
We need volunteers
We welcome your help at our Taste Tests. Click here to complete a volunteer form and get added to our mailing list.
Thank you to our Sponsor

References
Vermont FEED. (2010). A Guide to Taste Testing Local Food in Schools.
Data on previously conducted Taste Tests are available upon request from EATS.