Cooking Classes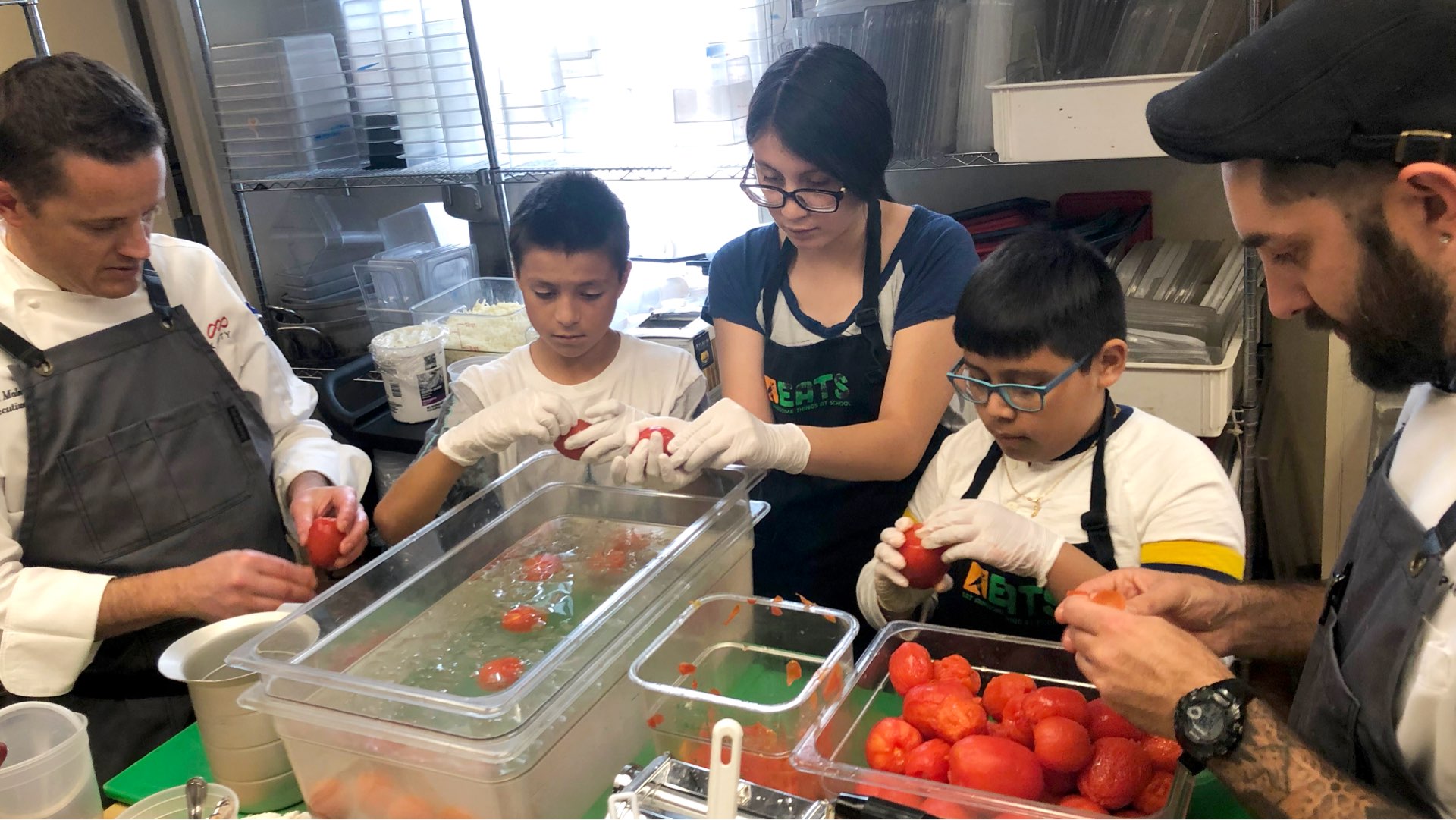 Food is a social currency that transcends all barriers, including language, age, gender. Food is also the cornerstone of health. Mental health, physical well-being, and brain functionality all stem from the basic tenet of, "What did I eat today?" We need to put proper nutrients into our bodies in order to function at our maximum potential.
Cooking classes are short courses that aim to provide ideas and hands-on experience in specific areas related to food preparation, food presentation, and food appreciation. EATS offers cooking classes for children through our Curious Cooks program, Kitchen Inspiration: Cooking Classes for Adults and Family Cooking Classes.
Curious Cooks: After School
Curious Cooks is EATS' signature cooking series for children of all ages. Curious Cooks is a series of interactive cooking classes intended to get students excited about food and nutrition. Whether they are rolling their own pasta or building a creative salad, Curious Cooks classes help students feel a sense of ownership over the food they eat and expand their palette. They learn where ingredients come from, how to use them in delicious creations, and what specifically about these items are good for their bodies and minds. With repeated exposure through hands-on learning, these students leave class with a well-rounded knowledge of basic food preparation and how to fuel their bodies.
"Learning how to cook means you can experiment with different foods. It's a healthier way of life. You can spend quality time with people you love."  – Isabella Andrews, age 9, McPolin cooking class student
Grades K - 5: Park City School District
EATS teaches students during the after school program at each elementary school once a month. This means, EATS cooks with this age group EVERY FRIDAY! With kindergartners thriving during sensory activities and 5th graders completely capable of reading and following most recipes, EATS adapts our lesson plans based on the age group. Our robust committee of professional chefs, educators, nutritionists, and dieticians ensures that our lessons are accurate, relevant, and age-appropriate. Sign up for the Park City School District After-School Program at PCSC After School Programs.
300+ students attend ten cooking classes each school year!
Grades 6 - 7: Ecker Hill Middle School
These middle school classes were so popular, EATS was asked to be a part of Ecker Hill Middle School's ongoing after school enrichment program! EATS classes at EHMS are funded through a Park City Education Foundation grant and are free to EHMSstudents.
To sign up for Ecker Hill's after school program with EATS, please visit EHMS Enrichment Activities.
During the 2017/18 school year, we began teaching cooking classes to students in the upper grades. Through EATS' collaboration with the Youth Sports Alliance (YSA), we are able to reach students in the local middle schools and junior highs (grades 6 - 9).
Kitchen Inspiration: Cooking Classes for Adults
EATS' signature series, Curious Cooks, now has a grown-up partner in Kitchen Inspiration! The kitchen is the place where we heat food in the microwave, wash the dishes, and sometimes even consume our food. It's also a space to grow microgreens, expand your palate, or practice essential life skills with your children, family, and friends.
Get acquainted with your kitchen! EATS' Cooking Classes for Adults feature food and beverage pairings, exciting new recipes, niche topic series like pickling, and more – all with EATS' signature hands-on style.
To sign up for a Kitchen Inspiration class, check our events calendar. To create a private Kitchen Inspiration class for your home or group of friends, please contact Meaghan at meaghan@eatsparkcity.org.
This family-focused series is offered throughout the year and focuses on delicious and healthy seasonal favorites. Family Classes focus on family cooking with kids from kindergarten age or younger and up, as well as nutrition education. Participants will learn how to involve their whole family in meal preparation, get fresh and healthy recipe ideas on a budget, and build community by sharing a meal together at the end of each class. Register for a single class or a whole series. Check our events calendar for upcoming dates.