15-Minute Pantry Tomato Soup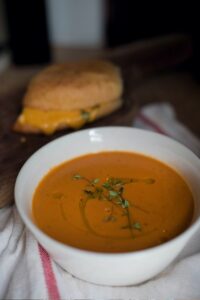 15-Minute Pantry Tomato Soup
Ingredients
3 Tbsp butter
1 onion, finely diced
1/2 tsp dry oregano
Pinch of red pepper flakes
1 Tbsp flour
Two 28oz cans whole tomatoes with their juice
1/2 cup milk or cream
Salt and pepper
2 Tbsp olive oil
2 Tbsp chopped herbs (basil, chives or parsley)
Instructions
Melt the butter in a medium saucepan over medium-high heat.
Add the onions and cook, stirring frequently, until softened but not browned, 6-8 minutes.
Add pepper flakes and oregano and cook until fragrant, about 30 seconds.
Add the flour and cook, stirring, for 30 seconds.
Add the tomatoes with their juice and stir, scraping flour off the bottom of the pan. Add the milk or cream and cook, stirring occasionally and breaking up the tomatoes with a spoon, until it comes to a boil.
Reduce to a simmer and cook for 3 minutes.
Remove the soup from the heat and puree using an immersion blender. Or transfer to a standing blender, in batches if necessary, and puree, starting on low speed and gradually increasing to high, then return to the pan.
Season with salt and pepper. Serve, topping each bowl with a drizzle of olive oil, a sprinkle of fresh herbs and a crack of fresh pepper.
https://eatsparkcity.org/recipes/15-minute-pantry-tomato-soup/