Anything Goes Pasta Salad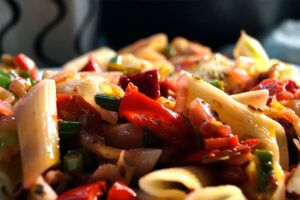 Anything Goes Pasta Salad
Ingredients
6 oz dried pasta
1/2 English cucumber
1/4  cup of olives
1/3  cup sundried tomatoes
1/3 of a red onion (soaked in the dressing)
1/4 cup of parsley or basil 
3 oz of mozzarella balls, halved

Dressing

1/3 cup of olive oil
1/4 cup of red wine vinegar 
1 clove of minced garlic
1 ½  tsp of oregano and thyme (or sub Italian seasoning) 
1/2 tsp of sugar (so the onion can start to ferment)
Sprinkle of salt and pepper
Instructions
Add all the dressing ingredients to a bowl, finely chop the red onion then add it to the dressing. Set aside.
Bring 2 quarts of water to a boil, add pasta and cook until al-dente (soft with just a bit of chew), about 8 minutes.
Drain pasta, rinse with cold water and transfer it to a bowl. 
Add all the mixings to the bowl, stir, and add dressing.
https://eatsparkcity.org/recipes/anything-goes-pasta-salad/