Apple Pie Filling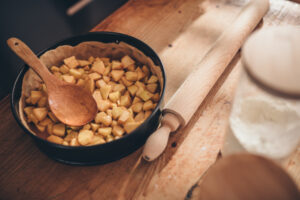 Recipe by Sophia Davila, Professional Pastry Chef
Ingredients:
6 large local apples (ask a local farmer which variety they recommend for pies)
2 cups sugar
Juice from 1 lemon
2 Tbsp flour
1 Tbsp cinnamon
1/2 tsp nutmeg
2 Tbsp salted butter
Directions:
Thinly slice apples, place in a bowl and toss with other ingredients.
Place in a lined pie tin.
Top with pie crust and then bake at 350 degrees for 45-50 minutes. Cooking time will vary depending on the thickness of the apples.