Awesome Energy Bars
These energy bars are a concentrated source of vitamins, minerals and protein. They are truly awesome because they taste great! Awesome Energy Bars can be frozen for up to 3 months – make a big batch.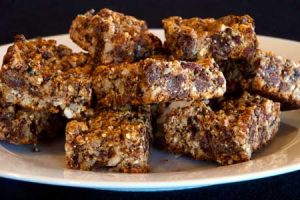 Makes 20 to 30 bars.
1/2 cup wheat germ foodelLcom 1 cup quick cooking rolled oats
1/4 cup whole wheat pastry flour
1/2 cup powdered nonfat dry milk
1/2 cup raw sunflower seeds
1/2 cup raw almonds
1/2 cup dried apricots
1/2 cup dried cranberries
1/2 cup dried figs or pitted and dried dates 1/2 teaspoon ground cinnamon
6 ounces semisweet chocolate chips
1/2 cup pure maple syrup 2 large eggs
Preheat the oven to 350F. Lightly grease a 13 x 9-inch pan with a little canola oil or cooking spray.
Toast the wheat germ by placing it in a dry skillet. Heat over medium heat for 3 to 5 minutes, stirring occasionally. As soon as it becomes
fragrant and starts to brown, remove it from the heat and set aside to cool.
Place all Ingredients except the chocolate chips (if using), wheat germ, maple syrup and eggs in the bowl of a food processor. Pulse until the mixture is finely chopped. Add the chocolate chips (if using), wheat germ, maple syrup and eggs and pulse a few more times until everything is well combined. (The mixture will resemble a coarse paste.)
Transfer the mixture to the prepared baking pan and spread evenly. Bake for 20 minutes or until firmly set.
Once cool enough to handle, cut into serving pieces and eat, or store in an airtight container at room temperature.