Beet Hummus and Veggie Pitas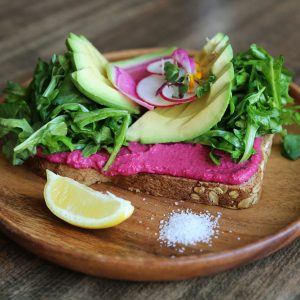 Beet Hummus and Veggie Pitas
Ingredients
Hummus

1 15-oz cans chickpeas
1 cooked beets, peeled and quartered (canned is okay)
1 garlic cloves
2 tbs tahini
1/4 cup squeezed lemon juice
1/4 cup extra-virgin olive oil
1 tsp sea salt

Pitas

Sliced cheese or cheese crumbles of choice
1 ripe avocado, pitted and sliced
1 small cucumber, sliced
1 package of sprouts
10 to 12 whole-wheat pita minis (3 inches), lightly toasted
Instructions
In a food processor or hi-speed blender, combine the chickpeas, beets, garlic, tahini, lemon juice, olive oil, and salt.
Process on high until smooth, stopping as needed to scrape down the sides and underneath the blade with a rubber spatula.
Spread the hummus into the pitas.
Stuff the pita with any veggies and cheese you desire and enjoy!
https://eatsparkcity.org/recipes/beet-hummus-and-veggie-pitas/